Esquí en Grandvalira & 2 días en Barcelona
4 días esquiando en Grandvalira más 2 noches en Barcelona
What about blending Southern Europe´s largest ski resort with its most exciting city in a single week ? Grandvalira is a huge ski area with more than 200 Km. linked slopes, modern fast lifts, excellent snow conditions and perfect grooming. Our combo trip allows skiing 4 days in Grandvalira (ski pass included) and, after that, spend 2 nights in Barcelona.
A combo week with 5 Nights in Andorra and 2 in Barcelona.
Flights, taxes and 5-days car rental also included.
4-Days ski pass covering 64 lifts and 210 slopes km. included.
Discover the largest Ski area in the Pyrenees.
Enjoy a real mountain experience, much more than skiing.
7 noches en el alojamiento seleccionado

vuelos i/v (tasas incluidas)

5 días de coche de alquiler

SkiPass Grandvalira

Barcelona- Andorra Transfer

Return Transfer from Barcelona to Andorra

Alquiler de material de Esquí/Snowboard - Opcional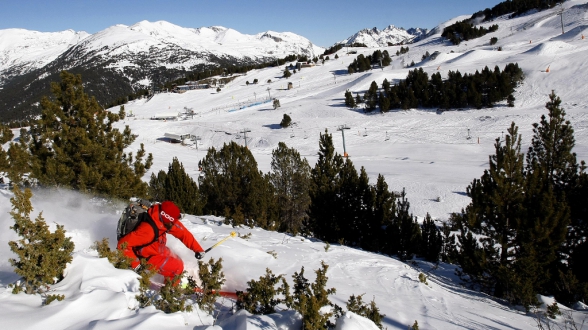 Grandvalira aims to be the best ski resort in Southern Europe. Actually, it compares favourably with many well-known Alpine and American Ski Areas. Both in terms of size, snow conditions, lifts and après-ski activities. It is not a single resort but a lift network linking 6 resorts in a huge 2000 hectares domain. It offers 210 slopes kilometers, 64 state-of-the-art lifts and a vertical drop of nearly 1000 m. (1710-2640 m). More than 1000 snow-guns guarantee a long season from early December to late April. Such a huge ski area has plenty of variety though the majority of terrain are open bowls above the tree-line. Beginners are taken care by 450 international ski instructors, fast broad cruisers will delight intermediates, while experts will be entertained in free ride areas as well as Ski World Cup slopes.
Grandvalira is actually made of 6 different resorts:
- For those coming from Spain, Encamp is the first access to the domain and the nearest to the Andorra la Vella. A 6 km funitel, takes 15 minutes to carry passengers from Encamp to the centre of the ski area.
- The easy levels of its ski slopes make Canillo ideal for families and beginners. The slopes are near a peaceful town.
- El Tarter is one of the most dynamic and lively resorts. El Tarter Snow-park is the most important freestyle area in southern Europe, or famous cat-skiing. Families will also find plenty for them, including a children's snow circuit and lots of entertaining activities. Moreover, El Tarter nights could hardly be livelier, with a huge range of exciting possibilities.
-Soldeu offers both wide slopes and extreme descents for lovers of the finest skiing, all against a stunningly beautiful natural setting. Moreover, with its many exciting night-clubs, Soldeu is highly recommended for young people.
-The only resort without its own residential area, Grau Roig the most unspoilt sector in the domain stands out particularly for its landscapes, which are amongst the most spectacular in Andorra.
- Pas de la Casa enjoys optimal snow conditions, whilst its broad slopes and varied range of levels enables users to enjoy winter sports to the full. Pas de la Casa is, moreover, like one long shop-window, and endless display of goods at competitive prices. No wonder this is considered one of the best spots in Andorra for shopping! Activity is intense at night, too: the many pubs and mass parties here make Pas de la Casa one of the most attractive resorts for young visitors.
Grandvalira could not have chosen a better place. Whilst visitors can enjoy hundreds of experiences at Grandvalira throughout the year, its location in Andorra multiplies the opportunities infinitely.Andorra, the Pyrenean country between Spain and France, is the ideal destination for all those who seek nature. Snow in winter, fresh air in summer. Incredible landscapes, natural parks, hiking routes, mountain bike and ecotourism. The location is ideal, too, for those who want to go shopping and delight in Andorra's vast number of different establishments, with full product ranges embracing all sectors imaginable.
Not only that, if you are looking for well-being, rest and relaxation and health and beauty treatment you have come to the right place. Don't miss one of Andorra's most popular attractions, Caldea spa and leisure centre. A huge range of outstanding cultural sites and activities also await you in Andorra. Museums, art galleries, monuments, festivals, superb Romanesque art … Another great pleasure you will undoubtedly discover here is the country's cuisine. Quality, diversity, traditional dishes, seasonal specialities… all this and more .
Día 1

Flight to Barcelona.

Check-in at your departure airport 90 minutes before your designated departure time to Barcelona. Upon arrival at Barcelona airport pick-up of your rental car. You will use the car to transfer to Andorra and you will have it available during your whole stay to move around at your own pace. It is a beautiful drive of ca. 2H 45 Min. Upon arrival at your accommodation check-in and first night in Andorra.

You will have 4 complete days to enjoy Andorra - Grandvalira with the skipass included in your package. After skiing is time to live famous Andorra Après-ski, mountain activities and Duty-Free shopping.

Once the ski holidays are over is time to enjoy the most amazing and lively mediterranean city. Drive from Andorra to Barcelona (less than 3 Hours) and drop-off the car in one of the car rental offices and enjoy the city during 2 nights.

Check-in at Barcelona Airport and flight your local airport. Arrival and end of the trip.
Coche
Los neumáticos de invierno están incluidos en el precio del alquiler del coche?
Los neumáticos de invierno son obligatorios en algunos destinos y se pueden reservar con nosotros pero el precio se considera un extra a pagar en la misma oficina de recogida.
Edad mínima del conductor del coche de alquiler.
Normalmente, las compañías de alquiler de coches cobran un recargo extra a conductores menores de 25 años. La cantidad depende de la categoría, país, etc. El importe se abona en la misma oficina de recogida.
Vuelo
¿Incluye mi vuelo material de esquí como equipaje?
Algunas compañías incluyen el material de esquí a sus tarifas pero otras no. ¡Compruébalo antes de marcharte! Air Europa: 902.401.551 // Lufthansa: 902.883.882 // Iberia: 902.303.200
Esquí
¿Cómo consigo el forfait?
Imprime y lleva contigo el voucher que te hemos enviado. Deberás cambiarlo por el forfait en las taquillas de la estación de esquí que se indican en el documento.
Información general
¿Imprevistos de última hora? Asegúrate el viaje!
A nuestros viajes les puedes incluir un seguro de viaje en el último paso de la reserva, cuando ya has introducido todos tus datos. Es opcional y los precios son variables según la duración del viaje. Si has reservado sin pero te lo has pensado mejor tienes hasta 7 días para incluirla.
Nuestros precios incluyen vuelos de ida y vuelta, tasas de aeropuerto, suplementos de carburante y el recargo por tarjéta de crédito.
Esta es una buena opción, pero tenemos más para ti. Mira otras alternativas de alojamiento.