Zermatt
The most wanted ski destination in the Alps
No doubt one of the most famous ski resorts in the world because of its landscapes, magnificent ski slopes, a large domain and a big vertical. The legand says that an skier is not a real alpine skier until he has skied in Zermatt.
360 km of interconnected slopes both in Switzerland and Italy
Skiing up to 3800 meters, one of the highest in Europe
Some of the most beautiful scenery in the Alps
Guaranteed high quality snow, even in summer
A chocolate-box village with many activities
7 nights in the chosen accommodation

Return flights (tax included)

7 days car rental

5 Days Ski lessons - Optional

Ski/Snowboard Rental Equipment - Optional

Swiss Transfer Ticket

Return train transfer ticket, valid from the airport train station to your final destination and vv.

Zermat International Skipass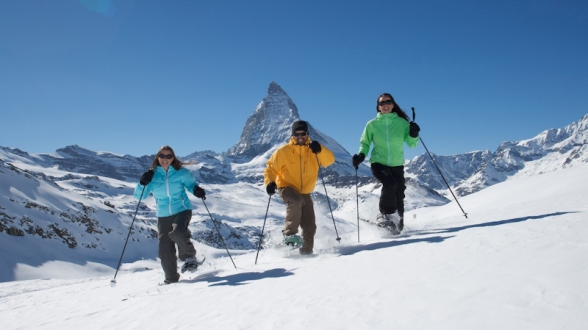 At least in this case, the reputation is entirely justified. The postcard is a typical Swiss alpine village, surrounded by an impressive mountain landscape with more than 30 peaks over 4,000 meters. Including the Matterhorn, possibly the most beautiful mountain in the world. 360 kilometers of ski slopes await winter sports enthusiasts in Switzerland, as well as in the Italian side of the Matterhorn, where the mountain is called the Cervino. Zermatt has 3 different ski areas, fully connected in altitude but accessed from three different bases from the village. Anyone who has not been in the last 5 years in Zermatt will be surprised because the entire domain was formerly fragmented, but now the 3 zones inter-connect perfectly. Sunegga is accessed by a modern underground funicular located about 5 minutes walk from the train station. Skiing here is between 2,000 and 3,100 meters in sunny slopes of all levels. From here you can access via two different points (Gant and Findeln) the second area, called Gornergrat. It offers intermediate and expert slopes between 2,200 and 3,400 meters. This area is also accessed from the center of Zermatt with a train that although slow (takes about 40 min.) is famous worldwide because of the extraordinary alpine panoramas that can be seen along the way . From Gornegrat is possible to connect to the third zone (Klein Matterhorn cable car) via Furi-Riffelberg. Access from Zermatt village to Klein Matterhorn is possible with a cable-car departing from one end of town (15 min. Walk from the center, there are ski bus). Klein Matterhorn is the highest areas of Zermatt, with the most attractive and challenging tracks and the link to the Italian resort of Cervinia. The slopes here range from 1,600 to 3,800 meters. Throughout the year, thousands of tourists take these cable cars to enjoy incredible views of the Matterhorn (Cervino) and glacier and other peaks, so in Zermatt going up is almost (but only almost) as exciting as going down. The summer ski area on the glacier Theodul offers 21 kilometers of pistes with guaranteed snow. In other words: Zermatt offers skking 365 days per year. The village of Zermatt is simply wonderful and an attraction in itself, with beautiful typical Swiss mountain houses and surrounded by a spectacular and unique mountain landscape. Zermatt is a pedestrian village, comfortably accessed by train. Once in Zermatt people walk or take a cab or a small electric taxis carrying guests' luggage through the narrow streets to the hotels and apartments. Zermatt is one of the pioneers of sustainability. Many businesses (hotels, restaurants, ski ...) pay attention for decades to the responsible use of resources such as water, electricity, etc.. A top quality cuisine awaits guests both in the hotels and mountain restaurants (20 restaurants sum up a total of 248 points Gault Millau). Many of the hotels and restaurants of Zermatt are family owned and provide customers with high quality and tradition (up to 80% of customers repeating each year). But there are also new hotels with a chic-alpine style architecture that combines perfectly stone, glass and, often, old wood. For those who, in addition to rest and sports, also enjoy shopping, we recommend a leisurely stroll along the Bahnhofstrasse. Overall Zermatt has après-ski and lots of choice and places to choose from. The party starts at the bottom of the Klein Matterhorn cable cars with many crowded bars and live music. The party goes later to the many bars downtown and main street is filled with people walking. Later on there are more than a dozen pubs and nightclubs with lots of atmosphere for people of all ages. Zermatt is not only a ski resort but a year-round tourist destination, so it offers many possibilities. Almost all panoramic peaks and the excellent restaurants and mountain huts are comfortably accessible for non-skiers. In the center there are many restaurants and shops and is ideal to stroll. There are many activities, including helicopter flights or a visit to the Alpine Museum. In addition there is curling, skating, sauna, indoor pool, gym, squash, golf indoor, cinema, etc. Most active guests have 30 km of marked trails in the snow, a mile-long toboggan run and a couple of cross-country skiing tracks tracks (9 km in total).
Check-in at your departure airport 90 minutes before your designated departure time to Genève. Upon arrival at Genève airport, transfer from the Airport Train Station to Zermatt. Upon arrival, check-in at your selected acommodation and first night in Zermatt.

You will have 6 complete days to enjoy Zermatt slopes with the skipass included in your package. A total of seven nights in Zermatt.

Train Transfer to Genève Airport. Departure of your flight and end of your holidays.
About car
Are snow tires included in the car rental?
Snow tires are obligatory at some destinations and can be booked with us but the price is considered an extra and must be paid at the car rental office directly.
Car driver minimum age.
Usually, car rental companies charge an additional fee when car driver is younger than 25 yy. That amount depends on car category, country, etc. It must be paid at destination.
About flight
Does my flight include the ski equipment as a baggage?
Some companies have included in their rates the ski equipment but others don't. It is necessary to check it with the company chosen before departure.
About ski
How can I get my ski pass?
You have to print and take with you the ski pass voucher that we send to you. Exchange it and collect your ski pass at the cash desk of the ski resort that the voucher indicates.
General information
Something unexpected happened? Insure your trip!
You might be able to add a travel insurance at last step of the booking process, once you have introduced all your data. It is optional and prices vary according to the duration of the trip. Did you book without travel insurance and now you want to add it? You have 7 days from the moment you booked for doing it!
Our prices include return flight tickets and all the supplement taxes such as airpot taxes, fuel surcharge and credit card processing fees.
This is a great option but we do have more. Look for an alternative by clicking on the accommodation.