Winter Holidays in Salzburg Region
Enjoy the snow in Salzburgerland mountains
Settled at the eastern end of the Alps, Salzburgerland is a winter holidays wonderland. This alpine region is triangle-shaped. The southwest corner has mountains with peaks over 3000 meters high with amazing glaciers. At the eastern corner mountains are filled by forests and mountain lakes. And in the northern corner, the beautiful city of Salzburg, one of the most atractive in Europe.
Spend 7 nights in beautiful mountain villages.
Flights, taxes and rental car included.
All kinds of activities to enjoy snowy landscapes.
Visit Salzburg, one of the most beautiful cities in the world.
Alpine skiing, Nordic and snowshoe trails at snow-covered forests.
7 nights in the chosen accommodation

Return flights (tax included)

7 days car rental
When driving around Austria, it is indispensable to buy a "vignette" toll sticker, which allows you to travel on motorways and expressways.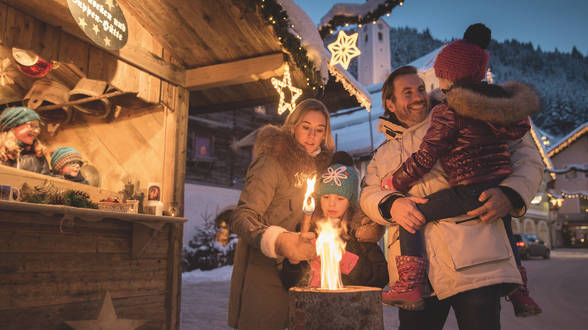 The Salzburg Region is an ideal winter destination with some of the best ski resorts in Europe. All of them have very good snow conditions, few queues, excellent lifts, charming landscapes and traditional villages who dare afternoon when the famous Austrian après-ski starts. In addition to downhill skiing you can enjoy the snow with snowboard, cross-country skiing, snowshoeing, winter hiking and enjoying the famous and fun tobogganing.

But not everything is hectic sport here. There is a lovely way to enjoy winter in Salzburg sitting in a sleigh pulled by horses, snuggle under the covers, and let slip through the winter scenery. And when combined with a stop at an inn, it is difficult to imagine a more romantic or pleasant way to spend time with friends and loved ones.

Another activity to enjoy the scenery of Salzburgerland is ice skating on the lakes of Salzburg - either in the Wolfgangsee, Wallersee, Fuschlsee, Goldeggersee or Zeller See lakes - in the middle of the snowy mountains. You can also skate in the heart of Salzburg. The ice skating rink at Mozart Square lets you do it in the winter atmosphere that invades the city of Mozart from mid-November until January 8.

And the city of Salzburg, beautiful all year-round, is one of the highlights of a visit to Salzburgerland. Its streets full of magic, music and cultural activities, the imposing castle, palaces, churches, the Baroque, etc. The city of Mozart is waiting for you.
First Day:
Flight to Munich.

Check-in at your home airport 90 minutes before departure of your flight destination Munich. On arrival pick-up a rental car that you'll use to transfer to your acommodation and you'll have at your disposal for the whole week. Drive to your accommodation, check-in and first night in Salzburgerland.

Intermediate Days:
Winter Break in Salzburgerland.

You have 6 full days to enjoy Salzburgerland and its snowy mountains in winter. You can go sightseeing and discover Salzburg and the beautifil Lake Region. And, of course, enjoy nature and snow: snowshoe tours, hiking or skiing, tobogganing several kilometers, meals in mountain huts in dreamy landscapes, etc. If you like skiing, in Salzburgerland there are dozens of excellent ski resorts.

Last Day:
Return flight.

Drop-off your rental car at Munich airport about 2 hours before the scheduled departure of your flight. Check-in and board your flight back to your domestic airport. Arrival and end of the trip.
About car
Are snow tires included in the car rental?
Snow tires are obligatory at some destinations and can be booked with us but the price is considered an extra and must be paid at the car rental office directly.
Car driver minimum age.
Usually, car rental companies charge an additional fee when car driver is younger than 25 yy. That amount depends on car category, country, etc. It must be paid at destination.
About flight
Does my flight include the ski equipment as a baggage?
Some companies have included in their rates the ski equipment but others don't. It is necessary to check it with the company chosen before departure.
About ski
How can I get my ski pass?
You have to print and take with you the ski pass voucher that we send to you. Exchange it and collect your ski pass at the cash desk of the ski resort that the voucher indicates.
General information
Something unexpected happened? Insure your trip!
You might be able to add a travel insurance at last step of the booking process, once you have introduced all your data. It is optional and prices vary according to the duration of the trip. Did you book without travel insurance and now you want to add it? You have 7 days from the moment you booked for doing it!
Our prices include return flight tickets and all the supplement taxes such as airpot taxes, fuel surcharge and credit card processing fees.
This is a great option but we do have more. Look for an alternative by clicking on the accommodation.