New Year's Eve in Venice
Start the New Year between masks and canals!
Celebrate the New Year in Venice is a unique opportunity to discover this city both with your partner, friends or family. Venice is a city full of romantic canals, palaces and bridges, where every corner must be discovered calmly walking through its streets and riding in the gondolas. Venice is a magical city and during this time of the year becomes much more special! Decorated with hundreds of Christmas lights and the mysterious atmosphere, so many people hiding behind their masks, your Venice city break will turn into a memorable New Year's Eve experience!
Our proposal is perfect for those who want to stop worrying about organizational issues and want to make the most of this destination
That is the reason why we have included return boat transfer from the Airport to Venice
Venice is an ideal place for strolling around and sailing on vaporetto so let yourself go and make the most of the public transport pass you also have included
This is a unique occasion to discover Venice and celebrate the New Year in a different way!
3 nights in the chosen accommodation

Return flights (tax included)

Transfers and season ticket for transport:

Our package includes:

+ Return Transfer airport-venice-airport by boat or by shuttle bus in case of Treviso Airport (TSF) flights

+ Transportation: vaporetto and busses (max. 7 days ticket)
Venice is ideal for traveling with a partner because of its romanticism, but also with the family as children will enjoy going over canals and bridges.
The Palazzo Ducale and Piazza San Marco are the symbols of Venice.
Do not miss Murano Island and its famous glass handmade or Burano , with its colorful houses.
Prepare your trip with time and visit the tourist website of Venice for more information: www.turismovenezia.it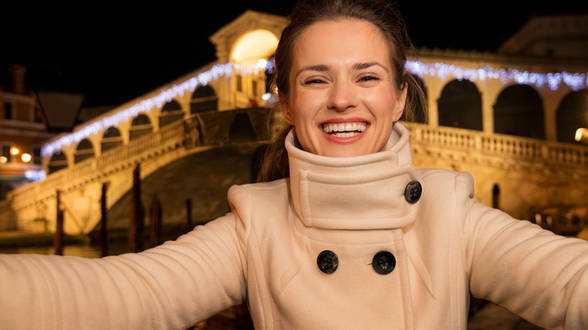 New Year's Eve in Venice is a single night celebrated with a big party in the charismatic Piazza di San Marco. White tinged with millions of Christmas lights that illuminate that magical and unique night Venice becomes the perfect place for this special moment. Live music, fireworks and millions of masks welcome the New Year in this busy Mascarada where Venetians and tourists blend in and wish a "Felice Anno Nuovo". There are other ways to celebrate New Year's Eve, but some might not suit all budgets. The luxury gala at the theater La Fenice opera whose concerts have become one of the most recognized worldwide; or the celebration at the Palazzo Barbarigo-Monotti where the most famous arias sound with the Grand Canal as background. If you are looking for a restaurant for your last year dinner we recommend you to book it in advance and do not forget to order "lenticchie" or lentils, as the Italian tradition asserts that those who eat lentils on New Year's Eve will have economic prosperity in the new year. Either way, in Capodanno let yourself get carried away by the Venetians emotion, dance with your mask on and get lost in the narrow streets and canals on a trip to the past and toast the New Year! And if you like challenges, you can join the 1st of January traditional New Year bath at Blue Moon Beach in Lido di Venezia . After the bath culinary specialties are served for adults and children.
First Day:
Flight to Venice.

Arrive at the airport 90 minutes before the scheduled departure of your flight to Venice. Check in and board your flight to Italy. On arrival, regular boat transfer from Marco Polo Airport to your hotel nearest quay. Check in at your selected hotel in Venice and, depending on the time you arrive, you might have some time to get to know this enchanting city. Night in Venice.

Intermediate Days:
Venice.

You will have these days to enjoy the beautiful city of Venice. We recommend strolling around the alleys and canals of the historic center and discover the "sestieri" or areas that compose Venice: Giudecca, Dorsoduro, Santa Croce, San Polo, Cannaregio, Castello and San Marco. Use the transport pass we have included for your stay which also allows you to use the boats to Murano, Burano and Torcello Islands. The rest of your stay you have time to continue exploring the city at your own way. Some ideas: vaporetto sailing will allow you to go under all bridges (from the l'Accademia, the oldest of the city to the more modern Calatrava bridge); stroll through the lively Jewish Quarter; climb to the top of the Campanile of San Marco for exceptional views; cross the Rialto Bridge and explore the market of the same name. And remember, one of the nights during your stay you will be celebrating New Year's Eve! Dress for a gala, but always warmly and celebrate this unique moment. Nights in Venice.

Last Day:
Return flight.

Depending on your flight departure time, use the last day to take a last look around Venice. At the stated time, enjoy your regular boat transfer from Venice to the airport for your return flight home. Check in and fly to your destination airport. Arrival and end of the trip.
Our prices include return flight tickets and all the supplement taxes such as airpot taxes, fuel surcharge and credit card processing fees.
This is a great option but we do have more. Look for an alternative by clicking on the accommodation.