Trentino & Alto Adige Christmas Markets
A Christmas dream in Dolomites
Discover the Christmas markets in the region of Trentino-Alto Adige. At the north of Italy we find these two provinces marked by a fascinating nature, the mountains of the Dolomites and its genuine culture that combines the best of Italy and the best of Tyrol. That is why Christmas time is lived in this region in a very particular way. With our offer you will go over charming villages with very special Advent markets. Trento, the capital of Trentino and Bolzano and Merano, Alto Adige cities are some of the places where you can enjoy a magical Christmas short break with your partner or children.
Dolomites landscapes are spectacular at this moment of the year. You will enjoy a unique alpine surrounding
Christmas traditions in Trentino-Alto Adige are very special. It is worth discovering them by yourself!
You have lots of Christmas markets to visit and discover. The 5 Stars path awaits you!
3 nights in the chosen accommodation

Return flights (tax included)

3 days car rental
Visit beautiful alpine villages at this time of the year is an unforgettable experience
You will find all Trentino Christmas markets information at: www.visittrentino. it
And if you want to know more about Alto Adige markets visit the website: www.suedtirol.info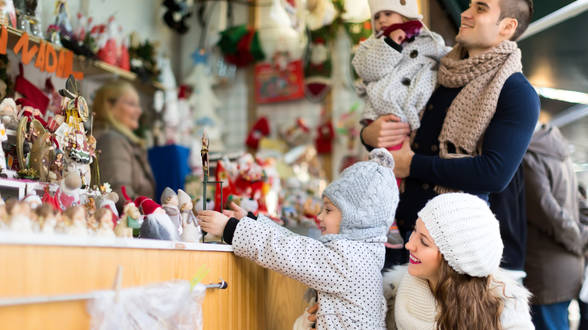 Christmas markets calendar:
Trento: from November 24, 2018 to 6 January 6, 2019 at Piazza Fiera and Piazza Cesare Battisti
Bolzano: from November 23, 2018 to January 6, 2019 at Piazza Waither
Merano. from November 24, 2018 to January 6, 2019 at Piazza della Rena, Piazza Terme and Lungopassirio
Bressanone. from November 23, 2018 to January 6, 2019 at Piazza Duomo
Brunico: from November 23, 2018 to January 6, 2019 at Via Bastioni Nuovo and Piazza Municipio
Vipiteno. from 23 November 2018 to January 6, 2019 at Piazza Città.
First Day:
Flight to Venice.

Arrive at the airport 90 minutes before the scheduled departure of your flight to Venice. Check-in and board your flight to Italy. On arrival, pick up your rental car and drive to the Trentino - Alto Adige, where will spend the next few nights. You will drive around 270 km, so we recommend you to take a flight landing in the morning. Night at your chosen accommodation.

Intermediate Days:
Trentino Christmas Markets - Alto Adige.

You will have these days to enjoy and make the most of the previous days of Christmas in the beautiful alpine environment where Italian and Tyrolean traditions merge. Depending on your accommodation location some villages will be closer than others but in the majority of them Christmas time becomes a special and magic moment. Wrap yourself up warm and have a wonderful walk around them. <P>

Intermediate Days:
Return flight.

Depending on your flight departure time, use the last day to take a last look around. We recommend you taking a flight late in the afternoon so you will drive calmly from your accommodation to Venice airport (270 km approx). Check in and fly to your destination airport. Arrival and end of the trip.
Our prices include return flight tickets and all the supplement taxes such as airpot taxes, fuel surcharge and credit card processing fees.
This is a great option but we do have more. Look for an alternative by clicking on the accommodation.