Tirol Christmas Markets
Living a real christmas fairytale
Towards the end of November, the darkest times of the year, something suddenly illuminates the towns and villages in the mountains of Austria. That's because Christmas markets arise everywhere. The squares are impregnated with the aroma of typical Xmas pastries and the renowned "Glühwein" (mulled wine) Something happens every day at the markets: bands, carols singers or visits St. Nicholas (the Austrian Santa Claus ) or "Krampus" rejoicing the older and the younger ones. I suggest a trip to discover this wonderful Christmas world in Innsbruck, the capital of the Alps, surrounded by the snowcapped mountains of Tirol.
Fly to Munich and walk around through the Tyrolean Christmas markets
Choose between Round-trip transfers from airport to hotel or Rental car to drive yourself around
Discover Innsbruck in Xmas time
Take the opportunity to do some activity in the snow of Tyrol
Fall in love with the atmosphere and Christmas decoration of each village
3 nights in the chosen accommodation

Return flights (tax included)

3 days car rental

Shuttle Transfers Münich Airport - Innsbruck

Return Transfer from Münich Airport to Innsbruck.
Innsbruck Christmas markets are the most beautiful in the entire Alpine area.
Try the "Hefe Kiachln" fried buns eaten with sauerkraut or jam.
The village of Igls, only 5 km from Innsbruck, is ideal for a day in the snow and to get to know the customes of the peoples of Tyrol. *Hall in Tirol, with Tyrol's largest medieval old town and has special lighting at this time of year.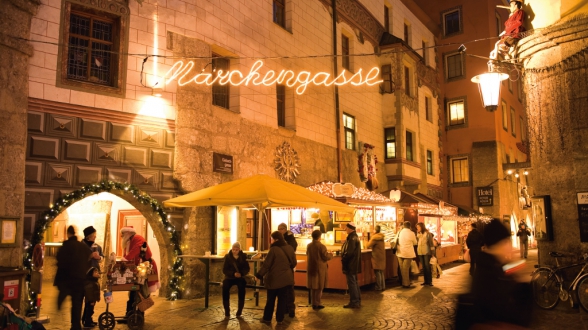 There are 6 Christmas markets in Innsbruck :
The old town city center from 15/11 to 06/01/17 (opening hours 11.00 to 21.00 h)
The Marktplatz Market opened from 15/11 to 06/01/17 (11.00 to 21.00 h)
Mery-Theresia-Strasse Market 15/11/16 to 06/01/17 (11.00 to 21.00 h)
Panoramic market in Hungerburg. 19/11/16 to 23/12/16 (13.00 to 19.00 h).
St. Nikolaus market in Hungerburg. 25/11 to 23/12/16 (13.00 to 19.00 h).
Magic Market of Wilten, in Hungerburg from 21/11 to 23/12/16 (13.00 to 19.00 h).
22 December 2014
Ana Maria
Barcelona
04 December 2014
Pilar
Barcelona
Our prices include return flight tickets and all the supplement taxes such as airpot taxes, fuel surcharge and credit card processing fees.
This is a great option but we do have more. Look for an alternative by clicking on the accommodation.