One week in Malta and Gozo
Truly Mediterranean
Malta and Gozo, may appear to be mere islands in the Mediterranean, but this small nation has great stories secretly wanting to be known. Organize your time and be sure you don't leave any undiscovered corner of their fortified capital Valletta, up to the northern beaches of the island where you can scuba dive and perhaps discover the remains of a shipwreck. And of course the green and rural island of Gozo, where we have many accommodations. A mixture of Mediterranean culture and nature for a great holidays.
Flights, accommodation and car rental included.
Discover this Mediterranean island at your own pace.
Dive into clear waters with hidden treasures.
Enjoy fortified cities Heritage.
Stay in the rural Gozo or the charming Malta island.
7 nights in the chosen accommodation

Return flights (tax included)

7 days car rental
Board on a cruise through the islands and visit some of the most interesting historical sites.
Dive in its crystal waters, ideal both for begginers and advanced levels.
Visit Valetta, fortress city and capital of the island.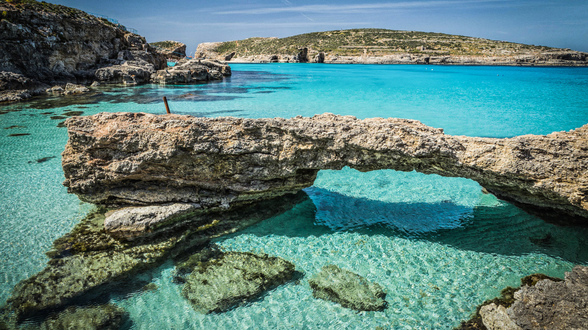 In the Mediterranean, halfway between Sicily and east of Tunisia, Malta holds the secrets of the Knights of the Order of St John as a historical legacy, endless megalithic temples and a coastline riddled with caves and cliffs that contrast with the dark blue the Mediterranean. Past and present flow simultaneously throughout the island. Besides enjoying the sea and the beaches of Malta, there are many opportunities for visits a high cultural, historical and natural interest: - Valletta, capital of Malta, a city designed as a grid for which is easy to browse and also get lost if you like. Some of the remnants of the Order of San Juan are here. A magnificent historic dominating a natural harbor. - Cospicua, Vittoriosa and Senglea, known as The 3 Cities. Older than the capital boast being the highest essence of Malta, being major ports since the time of the Phoenicians. - Hal Saflieni, near the capital, is the only prehistoric underground temple known and Heritage. Built around 2500 BC is a huge structure that was used as a necropolis. A curiosity: the deepest room set is 10 meters from the surface. - Tarxien, Skorba and Hagar Qim, are some of the megalithic temples that can be found throughout the island. They are composed of various constructions and reliefs carved into the walls and columns. - Ghar Dalam, located south of Malta, is a cave where the first traces of life on the island were discovered. - Il Majistral,the first National Park Malta with 6 km of protected coastline, historical and archaeological remains, and even agricultural areas. - Gozo, is greener, rural and smaller than Malta, its waters are ideal for a stop on the trip and relax in them. Easy to get there: a network of ferries make a short trip / return all day.
First Day:
Flight to Malta.

Check-in at your home airport 90 minutes before the designated departure time of your flight to Malta. On arrival, pick up the rental car you will use throughout the week, and then move to the booked accommodation. Most of them are in Gozo (where the best beaches are), a neighboring island which is easily accessible by ferry. On the other hand, if you stay in Malta, will be closer to the points of historical and cultural interest. But they are very small islands and is very easy and fast to go from one to another. It is a very short ride with boats continuously all day. Check-in and first night in Malta.

Intermediate Days:
Holidays in Malta.

You have thesel days to get around the islands, tracing routes radiating from your accommodation. You can organize theme days: strengths (Valletta, Cospicua, Vittoriosa and Senglea), natural parks (Il Majistral, Ta'Qali), megalithic temples (Tarxien, Skorba, Hagar Qim, Mnjandra, Hal Saflieni), caves and cliffs ( Ghar Dalam, Taht il-Hnejja). And of course enjoy much time on the sea, especially in the white and red sand beaches, blue lagoons and inland seas on the island of Gozo.

Last Day:
Return Home.

If you have a late departure flight, use your latest vacation hours to finish enjoying Malta and Gozo. You must return the rental car at the airport in Valletta about 120 minutes before the scheduled departure time of your flight back home. Flight back to your home airport. Arrival and end of the trip.
13 September 2014
Práxedes
Palencia
06 July 2013
Angel
Madrid
Our prices include return flight tickets and all the supplement taxes such as airpot taxes, fuel surcharge and credit card processing fees.
This is a great option but we do have more. Look for an alternative by clicking on the accommodation.