Kitzbühel
The Legendary Ski Resort
Wonderful slopes, a cute historic village by the lifts, very beautiful landscapes and a bustling Après Ski. Kitzbühel is a suitable destination for all kind of skiers and even for the non skier. The ski resort is also noted for an excellent service, fine dining and excellent slopes grooming.
Flights, skipass, hotel and transfers included.
180 Km. of slopes and 50 ski lifts.
One of the most beautiful villages in the Alps.
Main lifts and snow production renewed in recent years.
Magnificent après-ski atmosphere and many activities.
7 nights in the chosen accommodation

Return flights (tax included)

7 days car rental

Skipass Kitzbühel

Shuttle Transfers Munich Airport - Kitzbühel

Return transfer from Münich airport to Kitzbühel.

5 Days Ski Lessons - Optional

Ski/Snowboard Rental Equipment 4* - Optional
Enjoy real-time panoramas at: Go to Livecams
Know the Forecasted weather: : Go to Weather Report
When driving around Austria, it is indispensable to buy a "vignette" toll sticker, which allows you to travel on motorways and expressways.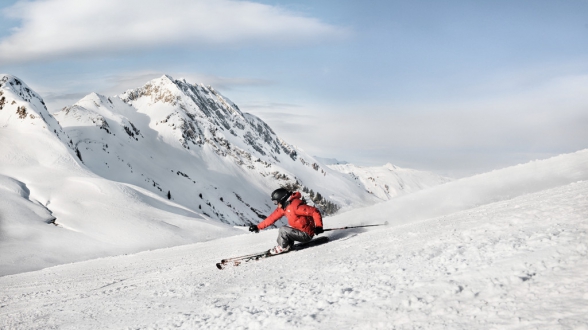 The main ski area is now fully linked thanks to the spectacular 3S cable car, so you do not need to use the Ski -Bus to ski 90% of the slopes. The largest and main area is the famous Hahnenkamm (hosting ski World Cup most dangerous descent), with direct access from Kirchberg and Kitzbühel. This mountain has varied slopes and is ideal for every type of skier. Highlights are the beautiful descents to the valley, with very long slopes. From the top of Pengelstein (1927 m.) Double-decker 3S cable car links (via beautiful landscapes) with Jochberg-Pass Thurn ski area. This area is noted for its beautiful but short slopes, with the best snow conditions of the whole region. Across Kitzbühel there is Horn ski area, with the best views in the area, nice short slopes and intermediate altitude for a few drops to the valley between forests. It is the preferred area for Snowboard .
Set among beautiful valleys with slopes on both sides, Kitzbühel is a beautiful town noted for its medieval old town. Here we find pedestrian streets, beautiful churches, luxury shops, charming cafes, typical cobbled streets, pretty painted houses, etc. The atmosphere is unique. The village has a significant size, so it is very likely you will have to use the excellent ski bus service at some point. Kitzbühel is also well connected by train to Innsbruck and Salzburg and a short transfer time from Munich airport. Kirchberg, 6 Km. from Kitzbühel, is more than a village in Kitzbühel outskirts, but a resort on its own. It is very nice, with many services and still preserves the charm of Tyrolean village. It has its own access to the famous Kitzbuhel ski, though you need to use the ski bus (very good service) to access the chairlift or gondola giving access to the Hahnenkamm ski area, which are between 1 and 3 km from the village. The Gaisberg beginner tracks are just outside the village. Aurach, Jochberg (gateway to Pass Thurn) and Aschau are three small towns in the area.
Kitzbühel has an outstanding Après Ski scene, among best in the Alps. It starts, as typical in Tyrol at any one of the 23 mountain huts and restaurants near the ski slopes. Followed by themed evenings in mountain huts, walks with torches or sleigh rides pulled by horses. In the village there are a hundred restaurants, 10 cafes, 9 pubs, 20 bars, 4 discos, cinema and casino. Some of the nightspots of Kitz , as Londoner Pub are legendary throughout the Alps for its nightlife.
The village has 45 km of walking trails in the snow, a sledding hill about 3.8 km and 40 km of cross-country tracks. It also features an indoor pool, tennis courts (indoor and outdoor), horse riding (indoor and outdoor), skating rinks, curling, bowling, indoor golf and scenic flights. The town has a lot to walk and shop around as well as being close to Innsbruck and Salzburg by train.
Check-in at your home airport 90 minutes before the scheduled flight departure destination Munich. On arrival at Munich transfer to Kitzbuhel or, if you prefer, pickup of rental car to transfer on your own. On arrival to accommodation, check-in and first night in Kitzbühel .

You have six full days to enjoy the slopes of Kitzbühel as well as neighboring resorts also covered by the pass you have included in the tour price. You will spend a total of 7 nights in Kitzbühel.

In time transfer to the airport. Or drop-off the rental car at Munich airport 120 minutes before the scheduled departure of your flight. Arrival and end of the trip and our services.
About car
Are snow tires included in the car rental?
Snow tires are obligatory at some destinations and can be booked with us but the price is considered an extra and must be paid at the car rental office directly.
Car driver minimum age.
Usually, car rental companies charge an additional fee when car driver is younger than 25 yy. That amount depends on car category, country, etc. It must be paid at destination.
About flight
Does my flight include the ski equipment as a baggage?
Some companies have included in their rates the ski equipment but others don't. It is necessary to check it with the company chosen before departure.
About ski
How can I get my ski pass?
You have to print and take with you the ski pass voucher that we send to you. Exchange it and collect your ski pass at the cash desk of the ski resort that the voucher indicates.
General information
Something unexpected happened? Insure your trip!
You might be able to add a travel insurance at last step of the booking process, once you have introduced all your data. It is optional and prices vary according to the duration of the trip. Did you book without travel insurance and now you want to add it? You have 7 days from the moment you booked for doing it!
Our prices include return flight tickets and all the supplement taxes such as airpot taxes, fuel surcharge and credit card processing fees.
This is a great option but we do have more. Look for an alternative by clicking on the accommodation.