Jungfrau Ski Region
Top of Europe
The Jungfrau region is probably the most famous and dramatic of all mountain regions in Switzerland. The skiing slopes cross these wonderful landscapes around Interlaken and the charming villages of Grindelwald, Wengen and Mürren. This is one of the best resorts in Switzerland for intermediate skiers who love not-so-difficult long slopes to enjoy a quite and relaxing skiing.
More than 210 km of slopes and over 40 lifts included in the package.
Stay in some of the prettiest villages in Switzerland.
Breathtaking scenery, high mountain feeling and lots of variety.
Slopes perfect for intermediate skiers and families with children.
Sightseeing oportunities and many other activities besides skiing.
7 nights in the chosen accommodation

Return flights (tax included)

7 days car rental

Skipass Sportpass Jungfrau

Swiss Transfer Ticket

Return train transfer ticket, valid from the airport train station to your final destination and vv.

5 Days Ski lessons - Optional

Ski/Snowboard Rental Equipment - Optional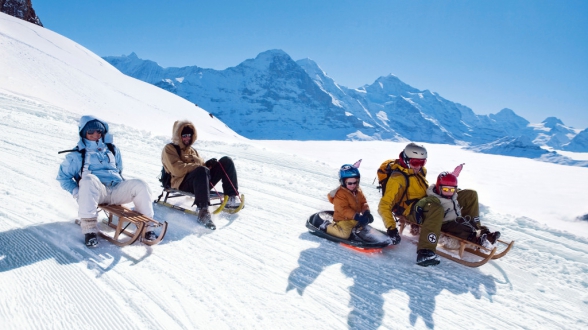 The Jungfrau Ski Region rises above Interlaken a town that is the center of the region and has a very nice location between two lakes. From Interlaken you can access the 3 ski villages in the region by train or ski bus. Grindelwald is the most famous village, with tracks on both mountain sides of the village. On one side there is First, the smaller of the two areas. It is accessed from a gondola leaving from the eastern edge of the town. This is a south-facing area, very sunny and with impressive views of the famous mountains around Grindelwald. The beautiful slopes are mainly intermediate above the tree-line terrain. Across the valley there is Männlichen ski area which links with Wengen ski area. This area is accessible by a cable-car departing from one edge of town to the upper area of ​​Männlichen (2.230 m.). Or with the train that makes a magnificent journey from Grindelwald to the top of Kleine Scheidegg (2.060 m.). The slopes are very long and fairly easy and those skiers who do not want much difficulties will enjoy them a lot. Again, the views are unbelievable and linking from the top to Wengen which has a slightly more demanding terrain. At the opposite end of the valley there is Mürren with higher slopes that reach almost 3,000 meters high at Schilthorn. It is a must at least a day skiing in Murren area as it boasts very dramatic slopes and unparalleled views. To a greater or lesser extent all the villages belonging to the Jungfrau region have a location with beautiful views of the mountain ranges. Interlaken is more a town than a village. You have no ski lifts but a central position optimal to go around the whole ski area. Grindelwald has charm and atmosphere and is made of traditional wooden swiss chalets, covered by snow. There are slopes on both mountain sides and all services. For many it is the best place to stay. Quanit villages of Wengen and Mürren are pedestrianized and only accessible by train which is quite magic. They are very beautiful and both have skilifts. Wengen has the advantage of being in the center of the ski area, while Mürren has the best views. Other valley villages such as Lauterbrunnen or Wilderswill are very quiet and offer cheaper accommodation. The villages in the area have some après-ski atmosphere, but not a place for nightlife. Grindelwald would be the liveliest of all. The town comes alive especially during events highlighting the festival season such as the world ice sculptures , the international Curling trophy or outdoors Rock concerts. The Jungfrau Region is one of the best destinations in Switzerland to spend a winter holiday in the mountains. Many visitors are non-skiers but tourists that come to enjoy the charm of the villages and the spectacular views. The sightseeing opportunities are vast, from up to Jungfraujoch or the cities of Interlaken or Bern. There are other winter sports such as snow shoeing, 35 km of cross-country tracks, 80 km of marked walking trails in the snow and 10 tobogganing tracks (the longest being 15 Km. long).
Day 1

Flight to Switzerland.

Check-in at your home airport 90 minutes before the scheduled flight departure destination Zürich. On arrival transfer by Swiss Trains to Interlaken Ski Region or, if you prefer, pickup of rental car to transfer on your own. On arrival to your acommodation, check-in and first night in Switzerland.

Day 2-7

Jungfrau Ski Region.

You have six full days to enjoy the magnificent mountain panoramas and slopes of Jungfrau Ski Region. All ski lifts are also covered by the skipass you have included in the tour price. You will spend a total of 7 nights in Jungfrau Ski Region.

In time transfer to the airport. Or drop-off the rental car at Zürich airport 120 minutes before the scheduled departure of your flight. Arrival and end of the trip and our services.
About car
Are snow tires included in the car rental?
Snow tires are obligatory at some destinations and can be booked with us but the price is considered an extra and must be paid at the car rental office directly.
Car driver minimum age.
Usually, car rental companies charge an additional fee when car driver is younger than 25 yy. That amount depends on car category, country, etc. It must be paid at destination.
About flight
Does my flight include the ski equipment as a baggage?
Some companies have included in their rates the ski equipment but others don't. It is necessary to check it with the company chosen before departure.
About ski
How can I get my ski pass?
You have to print and take with you the ski pass voucher that we send to you. Exchange it and collect your ski pass at the cash desk of the ski resort that the voucher indicates.
General information
Something unexpected happened? Insure your trip!
You might be able to add a travel insurance at last step of the booking process, once you have introduced all your data. It is optional and prices vary according to the duration of the trip. Did you book without travel insurance and now you want to add it? You have 7 days from the moment you booked for doing it!
Our prices include return flight tickets and all the supplement taxes such as airpot taxes, fuel surcharge and credit card processing fees.
This is a great option but we do have more. Look for an alternative by clicking on the accommodation.