The Istrian Peninsula
Italy, Slovenia, Croatia and the Adriatic Sea in one trip
Istria, situated at the crossroads of Italy, Slovenia and Croatia, is the largest peninsula in the Adriatic. With a deep Italian influence it is, in every way, an exciting cultural crossroad. It is a basically rugged and mountainous territory. This fact helps to build a very varied coastline with beaches, coves, cliffs, etc. It is an ideal place for a beach holiday combined with sightseeing and a cultural and historial touch.
8 Days / 7 Nights holiday in Istria.
Enjoy the beaches and coastlines with almost touching the sea.
Rental car include to move around with total freedom.
Discover charming villages in the Istrian hinterland.
Delight with historic towns such as Pula, Porec and Rovinj.
7 nights in the chosen accommodation

Return flights (tax included)

7 days car rental
The landscapes of Istria combine the French Provence, along with a blue sea, beautiful beaches and high cliffs.
The Roman Colosseum and the Arch of Triumph of Pula. A city that keeps well the monuments of his Roman period.
The old town and the port of Porec.
Novigrad the prettiest fishing village with many fish restaurants.
All information on Oficina Croatian Tourism a>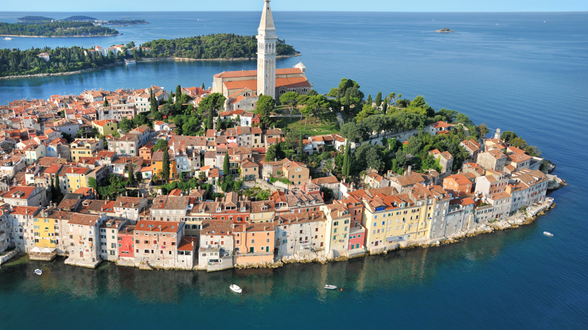 The Istrian Peninsula is one of the most unique places in the Mediterranean for a beach holiday. On one hand it is a cultural mix between Italian and Slavic, both in architecture and in language and cuisine. On the other hand it is unique because its rocky and steep landscapes with trees that reach the beaches and cliffs. This is the reason why Istria is known as the green Mediterranean. During your stay in Istria you can visit many places of both cultural and historical interest:
Novigrad is considered the most beautiful fishing village in Istria, and it´s known by its many fish restaurants. The bay north of Novigrad is very romantic.
Porec surrounded by pine forests, vineyards and olive trees. Its coastline is full of beaches and rocky bays. In the city stands the VI century Basilica Euphrasia (Unesco World Heritage Site ). The church tower offers breathtaking views and its mosaics are fabulous.
Vsar, on a 60 m. high hill by the sea overlooking many islands, is a charming town. Situated along the Lim Fjord, is the city of Casanova, the most famous galant in history.
Rovinj old town with its picturesque shell shaped bay is known as the most romantic city in the Mediterranean. Its small streets leading from the sea to the main church seduce for its quiteness.
Pula, south of Istria is one of the its oldest cities. It has a very rich Roman heritage. Among Pula highlights especially the imposing Amphitheatre of Vespasian.
Labin and Rabac are in an area where green descend to the sea, and natural heritage is mixed with the culture, making this places a haven for artists.
Motovun founded by the Republic of Venice has a castle work of the Patriarchs of Aquileia. It is located in an area famous for its mushrooms and truffles.
Pazin, built on a rocky promontory has a rich past which can be seen in the remains of fortifications and XV century streets that hosted the Habsburg court.
Istria hinterland has a distinct rhythm to the coast, which gives it a special charm. Towns and villages like Zaursje are really lovely.
The Istrian cuisine is extremely rich, as a result of the turbulent history of the region. Traditions are mixed in various local cuisines, whose base is the nature (aromatic spices, wild plants, vegetables, seafood, etc..). All this is mixed with the influence of the various empires that dominated the peninsula (Germanics, Venetians, Slavians, etc..) The main feature of the Istrian cuisine is the presence of more boiled than fried, the use of many spices and vegetables, lots of fish and, of course, olive oil and wines.
1
Day 1: Flying to Venice.
Check-in at your local airport 90 minutes before the designated departure time of your flight destination Venice. On arrival, pick up the rental car you will use throughout the week and to transfer to your booked acommodation in Istria. Depending on the location of the acommodation you will drive between 2 and 3 hours. Upon arrival in Istria, check-in and first overnight in Croatia.
2-7
Day 2-7: Holidays in the Peninsula of Istria.
You will have 6 full days to enjoy the Istrian Peninsula. Obviously if you are travelling in summer, visiting some of the beaches will be a priority of your vacation. But Istria is much more than sun and sand. Enjoy beautiful towns such as Pula, Rovinj, Porec. etc. And towns full of charm as Zavrsje and Rabac. Besides enjoying the scenery and cuisine. All in all you will spend 7 nights in Istria.
8
Day 8: Flight home from Venice.
Wether your flight time permits, spend the day paying a visit to Venice. You have to drop-off the rental car at Venice airport around 120 minutes before the designated departure time of your flight. Check-in and flight departure to your local airport from Venice. Upon arrival end of your trip to Croatia.
02 September 2014
JUAN
santa perptua de mogoda
28 August 2014
Miguel Angel
Córdoba
17 August 2014
Ana
Madrid
15 August 2014
Francisco Javier
Bilbao
01 August 2014
Adriana
Madrid
06 September 2013
Gonzalo
Our prices include return flight tickets and all the supplement taxes such as airpot taxes, fuel surcharge and credit card processing fees.
This is a great option but we do have more. Look for an alternative by clicking on the accommodation.