The Istrian Peninsula with the Kids
Discover the Adriatic beaches of Istria with the family
The Istrian Peninsula is an ideal place to spend a family holiday. Located at the crossroads of Italy, Slovenia and Croatia, Istria enjoys a varied landscape of mountains, beaches and cliffs combined with an extraordinary cultural heritage. This summer, escape with the kids to Istria with this trip that includes a hire car for 7 days so that you can discover at your own pace an exceptional destination ideal for exploring true nature, enjoying a relaxing time on the beach and strolling through the interesting history that has left its mark on the region's charming villages, towns and cities.
7 nights in an apartment for the comfort of all of the family
Car hire included so that you can get around at your leisure
You'll enjoy the beaches and wooded shorelines
You'll discover charming villages inland
And historical towns and cities like Pula, Porec and Rovinj
7 nights in the chosen accommodation

Return flights (tax included)

7 days car rental
Novigrad is a very pretty fishing village boasting numerous fish restaurants
Istria has a great Italian influence, and it shows in the culture and the cuisine
To be able to drive through Slovenia on your way to Istria, it is necessary to buy a "vignette" toll sticker, which allows you to travel on motorways and expressways
Check out the website of the tourist office: Croatia Tourist Office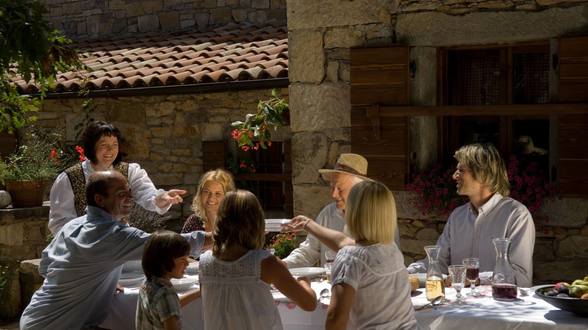 The Istrian Peninsula is one of the most unique places in the Mediterranean for a beach holiday. On one hand it is a cultural mix between Italian and Slavic, both in architecture and in language and cuisine. On the other hand it is unique because its rocky and steep landscapes with trees that reach the beaches and cliffs. This is the reason why Istria is known as the green Mediterranean. During your stay in Istria you can visit many places of both cultural and historical interest:
Novigrad is considered the most beautiful fishing village in Istria, and it´s known by its many fish restaurants. The bay north of Novigrad is very romantic. Porec surrounded by pine forests, vineyards and olive trees. Its coastline is full of beaches and rocky bays. In the city stands the VI century Basilica Euphrasia (Unesco World Heritage Site ). The church tower offers breathtaking views and its mosaics are fabulous. Vsar, on a 60 m. high hill by the sea overlooking many islands, is a charming town. Situated along the Lim Fjord, is the city of Casanova, the most famous galant in history. Rovinj old town with its picturesque shell shaped bay is known as the most romantic city in the Mediterranean. Its small streets leading from the sea to the main church seduce for its quiteness. Pula, south of Istria is one of the its oldest cities. It has a very rich Roman heritage. Among Pula highlights especially the imposing Amphitheatre of Vespasian. Labin and Rabac are in an area where green descend to the sea, and natural heritage is mixed with the culture, making this places a haven for artists. Motovun founded by the Republic of Venice has a castle work of the Patriarchs of Aquileia. It is located in an area famous for its mushrooms and truffles. Pazin, built on a rocky promontory has a rich past which can be seen in the remains of fortifications and XV century streets that hosted the Habsburg court. Istria hinterland has a distinct rhythm to the coast, which gives it a special charm. Towns and villages like Zaursje are really lovely. The Istrian cuisine is extremely rich, as a result of the turbulent history of the region. Traditions are mixed in various local cuisines, whose base is the nature (aromatic spices, wild plants, vegetables, seafood, etc..). All this is mixed with the influence of the various empires that dominated the peninsula (Germanics, Venetians, Slavians, etc..) The main feature of the Istrian cuisine is the presence of more boiled than fried, the use of many spices and vegetables, lots of fish and, of course, olive oil and wines.
1
Day 1: Flight to Venice.
You'll take a scheduled flight to Venice. On arrival, you'll pick up your hire car from the airport and head to your accommodation on the Istrian Peninsula (Croatia), known as the Magic Land. The trip will take between two and three hours, depending on where you're staying. Check in at your accommodation and first night in Croatia.
2
Day 2: Pula and its beaches.
Spend a day discovering Pula, the largest city in Istria and a genuine treasure trove for lovers of culture. Strolling through its old town is a journey through history against the backdrop of its imposing Roman amphitheatre. Although the historical treasures that the city conceals are certainly impressive, what really attracts holidaymakers to the area is its wild 190 km-long coastline with crystalline waters and spectacular beaches (some are very well set up for tourism and others are completely unspoiled and overrun with vegetation). You can also visit Pula Aquarium in Fort Verudela where you can find out about the marine fauna of the southern and northern Adriatic, especially its tropical and freshwater fish. Night at your accommodation in Istria.
3
Day 3: The medieval city of Rovinj.
Very close to Pula is the charming city of Rovinj and it is well worth spending a day of your stay there. An old fishing village known for its therapeutic benefits, today it is a major tourist centre. Walk along the narrow alleys of its medieval old town and enjoy a truly Mediterranean atmosphere. Very close to Rovinj is an attraction that will delight the kids: Mini Croatia – a trip across the entire country in miniature. Night in Istria.
4
Day 4: Vrsar and Funtana.
These two fishing villages offer a unique landscape. The most rugged coastline in Istria with numerous bays and islets is a paradise to be explored. Vrsar, on the banks of the Lim Canal, is a charming village located on a 60-metre-high hill. There are many boat trips you can go on to enjoy the natural environment – ideal for young and old alike. Night in Istria.
5
Day 5: Porec – the heart of the west coast.
Today, you can visit Porec, which used to be a small coastal town but has now become a major tourist resort. It is noted for its cultural and leisure activities as well as the history it conceals in its old town, especially the Euphrasian Basilica and its mosaics – a UNESCO World Heritage Site. Stroll among its colourful houses and discover the many beaches it has in its surrounding area, especially the rocky Brulo Beach and Laguna Beach, ideal for children as there are designated areas for them to swim in. Night at your accommodation in Istria.
6
Day 6: Rabac and surrounding area.
Today, we suggest you visit the east coast to explore Rabac, the Pearl of the Adriatic, located in the Gulf of Kvarner. A wonderful setting and a large pebble beach waiting to be explored. From the seafront, you can go with the kids on a glass-bottom boat trip along the coast and enjoy the view of the bottom of the sea. You can finish off the day visiting the old mining town of Labin, which is very colourful and full of quaint bars and terraces in the street. Return to your accommodation in Istria.
7
Day 7: Inland Istria.
As well as the Istrian coast, it is also well worth visiting the inland areas of the peninsula. You can drive to Pazin, the administrative centre of the region, where you'll find a fortress built on a cliff above the River Pazincica. The scenery is so beautiful that Jules Verne was inspired by this place to write one of his works. About a 20-minute drive away is Montona, a medieval town that still preserves its rich cultural and historical heritage. Continue to Buzet, located in the valley of the River Mirna, and also visit Roc, an important cultural centre, and Hum, the smallest city in the world. Night in Istria.
8
Day 8: Return home.
Today, you'll have to head home, so we suggest you choose a flight in the late afternoon. You'll have a three-hour drive back to Venice. Get up early and take the opportunity to visit Venice, stroll over its bridges and canals and discover the busy St Mark's Square and the beautiful Rialto Bridge. Return your hire car to Venice Airport. Check-in, boarding and flight home. Arrival and end of the trip.
About car
What documents related with the car rental will Bedooin.com send me?
We will send you a voucher that will contain all the car rental reservation details. That document must be handed over at the car office on arrival. The voucher must be under the same name as the car driver and this same person needs to show a credit card at the office as well. If not, Bedooin cannot guarantee the car delivery by the rental company.
About car rental contract…
We strongly recommend reading over the car rental contract carefully and paying attention at all the details. Make sure that the contract has not extras included that you have not requested. For example: an extra driver, the fuel or a complementary car insurance (SuperCover, PAI, Super CDW, etc). You can always add extra services at car company's help desk. And remember to return your car tank full of petrol or the car company will charge that to your credit card!
Can I take with me my own child seats for the car instead of renting them?
You can board them as a luggage in one of your suitcases and save the money of renting them to the car company. Although you can also contact us and we will book them for you in advance. Payment will be at the same car rental office.
Can I deliver the car after the time established by car voucher?
You can do it but you will be charged an extra day as deliveries and collections hours much with your trip. Your car document has got all the information about car office timetables.
About flight
What is the procedure with the flight company if I am traveling with a buggy?
When you travel with a buggy, most of the flight companies let you board it once you reach the plane. Someone will take it there and return it to you after landing. We recommend to check it in advance at the company website.
Boarding pass. Do not waste time and get them online!
Although with the ID / Passport and the flight document we send you is valid for collecting your boarding passes at company's boarding desk at the airport, we recommend getting your boarding pass checking in your flight online, both traveling with hand luggage or if you need to board some. In this second case you will only drop your luggage at company's boarding desk. Between 48 and 24 hours before departure you can do it and download them. Fast, easy and no queues at the airport!
Our prices include return flight tickets and all the supplement taxes such as airpot taxes, fuel surcharge and credit card processing fees.
This is a great option but we do have more. Look for an alternative by clicking on the accommodation.