Holland Holiday Parks
Ideal holidays and playground for families
This is your chance to spend holidays in Holland as the families of the country do. Rent a cottage in a holiday park and visit from there Holland making day trips. And you will also have the chance to enjoy indoor water parks and all kind of child-friendly attractions, that make Holiday Parks an excellent alternative for family holidays.
Stay 7 nights in a holiday house in the Park.
Very green and quiet environment, ideal for families with children.
Make day trips to many highlights in Holland.
The Park has indoor pools and water attractions.
All kinds of activities and sports for the whole family.
7 nights in the chosen accommodation

Return flights (tax included)

7 days car rental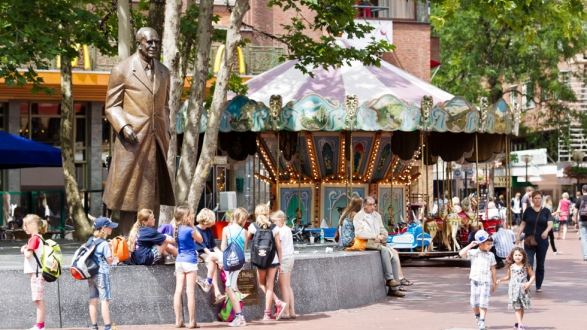 The Holiday Parks have been, for years, the preferred holiday choice for Holland families that spend their holidays in their own country. What better way then to visit the Netherlands the same way families of the country do ?
Each Holiday Park has its own characteristics. But all of them are always in the countryside, in large areas of forest or countryside or near the beach. The holiday cottages are situated therefore in natural locations. The feeling is a about fresh air and close contact with nature. They are very quiet areas, mostly for pedestrians and with many trees and lakes or channels.
In the center of the holiday park you will find all amenities including bars, restaurants, supermarket and activity center. There is also a large indoor pool with all kinds of water rides. And also great children's play areas (indoor and outdoor), a farm, bowling, climbing wall, etc.. (Each park has its own specialty).
All our villas are very well equipped, according to today's standards of comfort. There are also some custom homes for those who enjoy an extra treat. All have fully equipped kitchens, living room, bathroom, etc.
Day 1

Flying to Amsterdam.

Check-in at your local airport 90 minutes before the designated departure time of your flight destination Amsterdam. On arrival, pick up the rental car you will use throughout the whole week and to transfer to the Holiday Park. On arrival, check in at your selected cottage. First night in Flanders.

Day 2-7

Holidays in Holland.

You have 6 full days to enjoy your holiday in Flanders. As this is a small country, flat and with excellent roads and highways it is very fast to move around. So you will be able to do plenty of day trips to the main highlights. Aditionally, children will be delighted with all pools, activities and attractions that are in the Holiday Park. All in all you will spend 7 nights in Holland.

Day 8

Fly home from Amsterdam.

After checking out drive to Amsterdam. Wether your flight time permits, spend the day touring the city or making last minute shopping. You have to drop-off the rental car at Amsterdam airport around 120 minutes before the designated departure time of your flight. Check-in and flight departure to your local airport from Amsterdam. Upon arrival end of your trip to Holland.
14 August 2015
Gemma
Begues
05 September 2014
Ana
Barcelona
11 August 2014
Carlos
Cerdanyola del Vallès
09 September 2013
ALBERTO
Pilar de la Horadada
About car
What documents related with the car rental will Bedooin.com send me?
We will send you a voucher that will contain all the car rental reservation details. That document must be handed over at the car office on arrival. The voucher must be under the same name as the car driver and this same person needs to show a credit card at the office as well. If not, Bedooin cannot guarantee the car delivery by the rental company.
About car rental contract…
We strongly recommend reading over the car rental contract carefully and paying attention at all the details. Make sure that the contract has not extras included that you have not requested. For example: an extra driver, the fuel or a complementary car insurance (SuperCover, PAI, Super CDW, etc). You can always add extra services at car company's help desk. And remember to return your car tank full of petrol or the car company will charge that to your credit card!
Can I take with me my own child seats for the car instead of renting them?
You can board them as a luggage in one of your suitcases and save the money of renting them to the car company. Although you can also contact us and we will book them for you in advance. Payment will be at the same car rental office.
Can I deliver the car after the time established by car voucher?
You can do it but you will be charged an extra day as deliveries and collections hours much with your trip. Your car document has got all the information about car office timetables.
About flight
What is the procedure with the flight company if I am traveling with a buggy?
When you travel with a buggy, most of the flight companies let you board it once you reach the plane. Someone will take it there and return it to you after landing. We recommend to check it in advance at the company website.
Boarding pass. Do not waste time and get them online!
Although with the ID / Passport and the flight document we send you is valid for collecting your boarding passes at company's boarding desk at the airport, we recommend getting your boarding pass checking in your flight online, both traveling with hand luggage or if you need to board some. In this second case you will only drop your luggage at company's boarding desk. Between 48 and 24 hours before departure you can do it and download them. Fast, easy and no queues at the airport!
Our prices include return flight tickets and all the supplement taxes such as airpot taxes, fuel surcharge and credit card processing fees.
This is a great option but we do have more. Look for an alternative by clicking on the accommodation.