Grossglockner Resort
A true paradise under Austria's highest mountain
The East Tirol ski area – Skiing in the region of Austria's highest mountain, ca. 37 kilometres of piste with 16 facilities, excellent consumer protection: Best family price, 3 snow covered valley runs/ no waiting times, Hot Spot Adler Lounge.
37 Km. of perfectly prepared and interconnected slopes
The Skipass includes neigbour ski areas (up to 350 Km slopes)
Virtually no queues and empty slopes
Traditional Tyrolean mountain hospitality
Excellent prices and ideal destination for families
7 nights in the chosen accommodation

Return flights (tax included)

7 days car rental

Forfait Ski Hit Ost Tirol

Shuttle Transfers from Münich Airport - Grossglockner

Return Transfer from Münich Airport to Grossglockner.

Ski/Snowboard Rental Equipment 4* - Optional

5 Days Ski Lessons - Optional
Enjoy real-time panoramas at: Go to Livecams
Know the Forecasted weather: : Go to Weather Report
When driving around Austria, it is indispensable to buy a "vignette" toll sticker, which allows you to travel on motorways and expressways.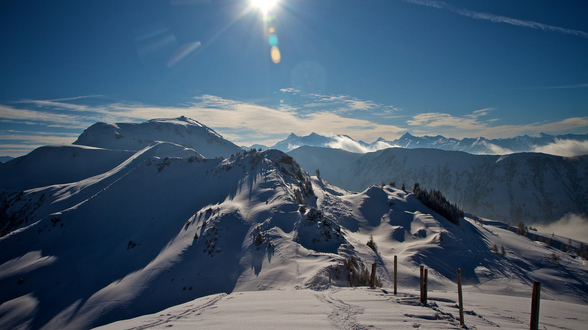 The Großglockner Resort Kals-Matrei brings East Tirol's is 37 kilometre ski area. In skigebietetest.de surveys from previous years, the Großglockner Resort achieved an overall rating of 4.31 from a possible 5 stars and was voted "Top for families" and "Top for Good skiers". ADAC and Ski Resort International already place the Großglockner resort in the world's top ten. The Austrian Association for customer information rates the Resort in first place for the best Price-Benefits-Performance for families. Still not enough: In 2011, the Adler Lounge was awarded a merit (13 points) by Gault Millau and is therefore the highest situated "merited" restaurant in East Tirol. Walther Hartweger leads the Adler Lounge as leaseholder, manager and chef. The good food, the cultured ambience and the exclusive prepared suites at over 2,000 metres cater for heavenly nights. The view alone from the Adler Lounge of the Austria's highest mountain, the Großglockner (3,798m) and a further 60 peaks over three thousand metres in Hohen Tauern provides a further unprecedented perspective. Ever since, the Großglockner Resort Kals-Matrei stands for "Merit" skiing and cuisine. From 2,621 metres up from Cimaross begins the longest valley (11.3km) run in East Tirol to Matrei. "Black appetisers" are the Blauspitz downhill and the Goldriedsee variant. All 100% of piste including the three valley runs can respectively be pulverised. Winter fun on the sun balcony of the Alps – under the roof of umpteen three thousand metre peaks: Austria's highest mountain creates the image of a winter holiday with East Tirol's SkiHit. Traditionality and hospitality belong to perfect snow enjoyment – just as much as perfect carving. Picture postcard villages with lots of all farm houses and genuine Tirolean customs have stayed the course in east Tirol. Kals on Großglockner (1,324m) is an Alpine and National Park location, where in 1855 the first of its three thousand metre peaks was climbed. Today is much easier for ski fans with modern lifts in Großglockner and 37 kilometres of piste. The altitude takes provides an overwhelming 360° view of the three thousand metre peaks in the Hohen Tauern National park. A 25km cross country skiing circuit with the Tirol quality seal, idyllic winter hiking routes, natural sledging runs and horse drawn coaches make every holiday in to a success
Check-in at your departure airport 90 minutes before your designated departure time to Munich. Upon arrival at Munich airport pick-up of your rental car. You will use the car to transfer to Grossglockner Resort and you will have it available during your whole stay to move around at your own pace. Upon arrival, check-in at your selected acommodation and first night in GG Resort.

You will have 6 complete days to enjoy Grossglockner Resort slopes and also neighbouring ski areas with the skipass included in your package. A total of seven nights in Grossglockner Resort.

Drop-off the rental car 120 minutes before flight departure at Munich Airport. Departure of your flight and end of your holidays.
About car
Are snow tires included in the car rental?
Snow tires are obligatory at some destinations and can be booked with us but the price is considered an extra and must be paid at the car rental office directly.
Car driver minimum age.
Usually, car rental companies charge an additional fee when car driver is younger than 25 yy. That amount depends on car category, country, etc. It must be paid at destination.
About flight
Does my flight include the ski equipment as a baggage?
Some companies have included in their rates the ski equipment but others don't. It is necessary to check it with the company chosen before departure.
About ski
How can I get my ski pass?
You have to print and take with you the ski pass voucher that we send to you. Exchange it and collect your ski pass at the cash desk of the ski resort that the voucher indicates.
General information
Something unexpected happened? Insure your trip!
You might be able to add a travel insurance at last step of the booking process, once you have introduced all your data. It is optional and prices vary according to the duration of the trip. Did you book without travel insurance and now you want to add it? You have 7 days from the moment you booked for doing it!
Our prices include return flight tickets and all the supplement taxes such as airpot taxes, fuel surcharge and credit card processing fees.
This is a great option but we do have more. Look for an alternative by clicking on the accommodation.