Dublin City Break
City-Break package including all the best in Dublin
The package with all the essential inclusions to enjoy an unforgettable trip to Dublin. Enjoy this friendly city, strolling around its busy streets and, of course, sipping a pint of Guinness at the famous Guinness Storehouse.
Flights + Accommodation in Dublin with much more inclusions !
2 Days Hop-on hop-off sightseeing bus included.
Discover the city at your leisure with plenty of stops around.
Now with Ticket Entrance to Dublin´s number 1 attraction, "Guinness Storehouse"
And after the visit taste your own pint of Guinness at the famous "Gravity Bar"
One guided walking tour is also included during your stay
2 nights in the chosen accommodation

Return flights (tax included)

Much more included in Dublin:

Our package includes following services:

- 2 Days Hop-on Hop-off Sightseeing Bus

- Entrance Ticket to "Guinness Storehouse"

- Walking tou

- Irish coffee and a glass of beer in a traditional pub

- Discounts in shops and restaurants
You can find more than 1.100 pubs. Check here 6 of them link
Visit the Trinity College and the Library
Taste a beer at the Guinness Storehouse
O'Connell street is a very important comercial zone.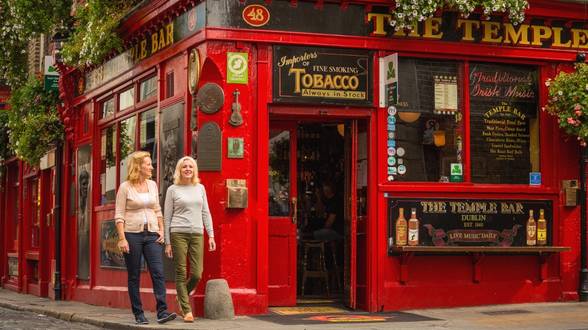 The best free thing to do in Europe, according to the Sydney Morning Herald, is to have a pint with a Dubliner.That's probably why it was voted the Friendliest City in Europe by TripAdvisor twice: Dublin is a city that definitely wants to meet you.
The best place to take a breather in Dublin city is along the River Liffey. Pick a bridge, any bridge. Dublin's got plenty. From here, the city's water-edged catwalk of architecture unfolds. The modern glass Convention Centre Dublin shines next to the grand neoclassical façade of Custom House.
All that's missing, as poet Seamus Heaney said, are "the Vikings coming sniffing up the Liffey". After all, at its heart, Dublin is a Viking city. Find out where it all started with a walk around medieval Dublin – this intimate knot of small alleys and broad streets south of the Liffey is where you'll find Christ Church, Dublin Castle and Dublinia.
A friendly reputation is not the only thing Dublin is famous for. James Joyce immortalised the city and its people in his work, and the city continues to live and breathe literature. Hence it being awarded the title of Unesco City of Literature. Catch a reading of Joyce's work in Sweny's Pharmacy, the real-life relic from Joyce's masterpiece Ulysses. Discover where Bram Stoker, author of Dracula, lived and studied or take a different approach to literary works on the Literary Pub Crawl.
Dublin's a great city to explore on foot. From the gracious city parks of Merrion Square and Iveagh Gardens, to the grand Georgian architecture and alfresco café culture of South William and Drury Streets, there's a lot to divert your attention. And don't forget Temple Bar – a cobblestoned cultural enclave of galleries, restaurants, hopping pubs and the lively Meeting House Square.
Friendly? Definitely. But Dublin's got a whole lot more going on.
First Day:
Flight to Dublin.

Check-in at your local airport 90 minutes before the designated departure time of your flight destination Dublin. On arrival transfer to your hotel on your own (we can also arrange that - extra cost). Check-in at your selected hotel in Dublin and, depending on the arrival time, get to know this beautiful city.

Intermediate Days:
Dublin.

Enjoy Dublin, capital of Ireland. In order to discover the city comfortably on your own you have included in the package price a 2-Days Ticket for the Sightseeing Bus. It is a Hop-on Hop-off Bus with stops all around Dublin, near all must-see atractions. Aditionally, we include you entrance ticket to the most famous tourist attraction of the city, the "Guinness Storehouse".One guided walking tour is also included during your stay Overnights in Dublin.

Last Day:
Flying home from Dublin.

Wether your flight time permits, spend the day touring the city or making last minute shopping. About two hours before the scheduled departure time transfer to the airport on your own (we can also arrange that - extra cost). Check-in and flight departure to your local airport from Dublin. Upon arrival end of your trip to Zürich.
Our prices include return flight tickets and all the supplement taxes such as airpot taxes, fuel surcharge and credit card processing fees.
This is a great option but we do have more. Look for an alternative by clicking on the accommodation.