Denmark with Kids
Family-friendliest country in Europe
What do you feel like you and your family this summer? Sea and beaches? Learn the Vikings? Visit Legoland? Or what do you think about have relaxing holidays cycling all together? Here's an idea for unforgettable vacation in Denmark.
8 days and 7 nights on Jutland (Denmark)
Guests stay in spacious and comfortable houses near the beach
Perfect to discover many family attractions
Beaches, bicycles, animals, theme parks, etc..
The price includes one-day ticket to Legoland Park!
7 nights in the chosen accommodation

Return flights (tax included)

7 days car rental

Legoland Ticket 1Day

1-Day Ticket allowing entrance to Legoland Billund park. The reservation will be made for Thursday or Friday (in case the park is clode on Thursday).
Ideal destination for bicycle ride lovers: bike routes all around
For the little ones: amusement parks, zoos, nature, etc.
You can't miss the North Jutland
Find out more in : http://www.visitdenmark.com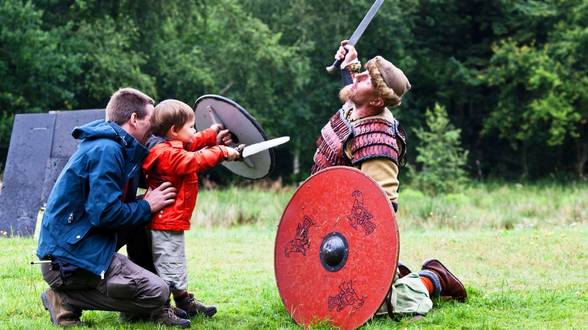 A safe, clean and friendly country. There's no better destination to enjoy a family hoildays with your little vikings!

You should book a vacation home. You will have free time to enjoy the environment with your kids. Using your rental car you can discover Denmark with radial tours from your apartment. Many of these trips are ideal for the whole family, especially for children.


Here you have 6 ideas of whole-day tour:

- Odense, Fionia's capital: A fairy-tale city, not only because Hans Christian was born there, but because the old town is a fantastic, full of little quiet squares and cobblestone pavement streets. There's also one of the better zoo's in Europe.

- East of Jutland: there are two cities there with a wonderful old towns. Near these cities there is Fyrkat, an old viking settlement, perfect to get in touch with this old culture. In Aarhus, "Den Gamle By" is an open museum with a lot of activities for children. In The outskirts of the city there is the famous Park Polar Bears.

- Bicycle roads: the flat, safe land of Denmark is perfect to enjoy with your family. You can hire bicycles in a lot of places.

- The coast of Jutland: the coast of Jutland is sprinkled with little, lovely towns like Ribe. Beaches there are white-sanded, long and beautiful Denmark is the european country with more kilometre of blue-flagged beaches.

- Western fiords: Es tracta d'un espai natural protegit com a Parc Nacional i que té immenses dunes de sorra blanca. La zona és ideal per recórrer-la caminant, amb bicicleta i fins i tot en cotxe per les carreteres panoràmiques. Destaca la gran població de foques que es pot observar en les platges del Parc Nacional.

- Legoland Billund: For children it is always the star of the trip. A theme park built with Lego bricks. In addition to the attractions, there are a lot of shows and demos and mini-worlds built with Lego. It's so fun.
Day 1

Regular flight destination Hamburg.

On arrival at the airport, collect the rental car and head to your . The accommodations are between 2 and 3 hours from the airport. Arrival, check-in and first night in Denmark.

Day 2-7

Vacations in Denmark.

Denmark is a safe country full of offers to have fun. From the famous attractions like Legoland to thousands of kilometers of lovely beaches, Denmark will always have something to offer to you and your kids. Kids will love the trip, but definitely the best day will be a visit to Legoland park. The entrance is included in the tour price. 7 nights in total in Denmark, allowing you to enjoy six full days in the country.

Leave with enough time to Hamburg airport (2 to 3 hours drive). If you have a flight in the afternoon, you could visit the beautiful city of Hamburg. Especially the world's largest famous model trains, which is really great (for both children and parents). Return you rental car at the airport. Arrival and end of the trip.
15 July 2017
María del Valle
Las Palmas
29 August 2015
Maria Gemma
massalfassar
15 August 2015
Inigo
Madrid
15 August 2015
Alexandre
Palma
01 August 2015
Ricardo
Murcia
16 August 2014
Elias
Zaragoza
19 July 2014
Miquel
Maria de la Salut
24 August 2013
Mercedes
Massalfassar
17 August 2013
Montserrat
Alcover
About car
What documents related with the car rental will Bedooin.com send me?
We will send you a voucher that will contain all the car rental reservation details. That document must be handed over at the car office on arrival. The voucher must be under the same name as the car driver and this same person needs to show a credit card at the office as well. If not, Bedooin cannot guarantee the car delivery by the rental company.
About car rental contract…
We strongly recommend reading over the car rental contract carefully and paying attention at all the details. Make sure that the contract has not extras included that you have not requested. For example: an extra driver, the fuel or a complementary car insurance (SuperCover, PAI, Super CDW, etc). You can always add extra services at car company's help desk. And remember to return your car tank full of petrol or the car company will charge that to your credit card!
Can I take with me my own child seats for the car instead of renting them?
You can board them as a luggage in one of your suitcases and save the money of renting them to the car company. Although you can also contact us and we will book them for you in advance. Payment will be at the same car rental office.
Can I deliver the car after the time established by car voucher?
You can do it but you will be charged an extra day as deliveries and collections hours much with your trip. Your car document has got all the information about car office timetables.
About flight
What is the procedure with the flight company if I am traveling with a buggy?
When you travel with a buggy, most of the flight companies let you board it once you reach the plane. Someone will take it there and return it to you after landing. We recommend to check it in advance at the company website.
Boarding pass. Do not waste time and get them online!
Although with the ID / Passport and the flight document we send you is valid for collecting your boarding passes at company's boarding desk at the airport, we recommend getting your boarding pass checking in your flight online, both traveling with hand luggage or if you need to board some. In this second case you will only drop your luggage at company's boarding desk. Between 48 and 24 hours before departure you can do it and download them. Fast, easy and no queues at the airport!
Our prices include return flight tickets and all the supplement taxes such as airpot taxes, fuel surcharge and credit card processing fees.
This is a great option but we do have more. Look for an alternative by clicking on the accommodation.