Paris & Disneyland Combo
The Magic Kingdom and the City of light in one trip
A combined trip to please the whole family. The first 3 days include tickets for Disneyland Paris' two theme parks. Then, to round off your trip, 2 days in Paris, the capital of France and one of the most beautiful cities in the world. It's a great idea to take advantage of your trip to Disneyland to also visit Paris, with everything so convenient and airport transfers included.
A trip that enables you to combine sightseeing with theme park entertainment.
A world of magic and excitement, perfect for a getaway with the kids.
A lot of time in the theme parks, but also in the city.
Hotels close to the theme parks with good services and prices.
Very reasonably priced with all essentials included in the package.
This trip can only be confirmed 7 days prior to departure.
4 nights in the chosen accommodation

Return flights (tax included)

3 Days Entrance Tickets Disneyland Paris

Take advantage of this great deal on Disney tickets. The ticket gives you access to Walt Disney Studios® and Disneyland® Park.

Return Transfers Paris Airports - Disneyland

Transfer from Paris Airport to your hotel at Disneyland and from your Paris Hotel to the airport (Charles de Gaulle or Orly)

(Transfers not included from/to Paris Beauvais and Vatry Airports, BVA / XCR)
Plan your visit to Disneyland Paris. Check the map of the park and plan your itinerary carefully to make sure you avoid the crowds.
Keep a look out for the show times. The kids love them.
Quick access to the rides with the free FastPass service.
Don't forget your camera and pen and paper so that you can capture memorable moments with the main Disney characters. And ask them for their autographs.
In Paris, don't miss out on a visit to the district of Montmartre and the Sacré Coeur.
The obligatory photo at the Eiffel Tower.
Take a wander through the streets. Lose yourself in Montparnasse, the Latin Quarter and stroll down the Champs Elysees to the Arc de Triomphe.
Enjoy every moment to the full.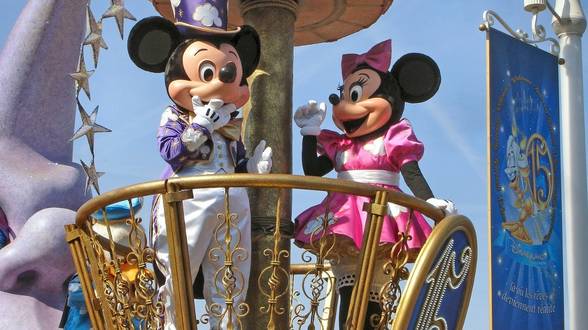 Disneyland Paris is one of the most popular and famous leisure and holiday destinations in Europe. It consists of two theme parks: Disneyland Park and Walt Disney Studios, as well as a large shopping and restaurant area known as Disney Village. Our hotels are in Disneyland East, a few kilometres from Disneyland Park, with public transport available (close to most hotels).
Disneyland Park is the largest, best-known and oldest of the theme parks. Access to the park is by "Main Street USA", which is a re-creation of a traditional American street with shops and restaurants, and a place where you can meet Disney characters, and the main stop for the steam train that travels the entire perimeter of the park with stops in
Disneyland Park's 4 worlds: Fantasyland (a world of fantasy and fairy tales), Frontierland (inspired by the Wild West), Adventureland (a world of adventures in distant lands) and Discoveryland (with rides inspired by the future and science fiction). Each area is full of attractions for all tastes and ages, themed restaurants and shops.
The second park, Walt Disney Studios, which has expanded a lot in recent years, is inspired by the world of cinema. Here, film studios are re-created with their massive sound stages where visitors can view movies and fabulous shows that are connected with the world of film, its characters and Disney animation. There are also spectacular attractions related to the world of film and entertainment that are breathtaking.
It's important to plan your visit well to Disneyland Park. Although you'll have a 3-day ticket which allows you to visit both parks, there are many things to see and do, so you'll have to be organised to make sure you don't miss out on any interesting things. Two tips: book ahead at the most popular attractions so you won't have to queue up for too long, and check the programme of events every day to find out the times of shows, parades and meeting Disney characters, etc. And plan your day around these times so that you don't wear yourself out running between events. And above all.... feel the magic!
Arrive at the airport 90 minutes before the scheduled departure of your flight to Paris. Check-in, boarding and departure for France. On arrival, transfer to Disneyland Paris. We recommend you book your flight early in the morning so that you can get to the park as soon as possible and make the most of your Day 1 tickets, which are included in the price (you can leave your luggage at the station or in the park). Check in to your hotel late in the evening. Overnight in Disneyland East.

You'll have all day to enjoy Disneyland Paris' two parks (tickets included) with its rides, shows, shops and restaurants. Overnight at the selected hotel in Disneyland East.

Another full day to enjoy Disneyland Paris's two parks: Disneyland Park, with 5 different worlds, and Walt Disney Studios, which gets even bigger with the most spectacular rides and shows related to the world of cinema. Overnight at the selected hotel in Disneyland East.

In the morning, it's time to head for Paris, a comfortable ride on the RER metro. After check-in at your hotel in the centre of the city, you'll have all day to enjoy the capital of France. Don't miss out on the Eiffel Tower, a boat ride on the Seine, the beautiful cathedral of Notre Dame, a long stroll along its elegant boulevards or a visit to the Louvre. Overnight in Paris.

Day 5

Last day and return flight.

Depending on your flight departure time, spend as much of the day as you can sightseeing in Paris. When the time comes, transfer to the airport is included. About 90 minutes before the departure time, check in for your return flight. Boarding and departure for home. Arrival and end of the trip.
05 August 2014
Miguel Ángel
Caceres
25 July 2014
VALENTIN
TORREJON DE ARDOZ
03 May 2014
Míriam
Sentmenat
About car
What documents related with the car rental will Bedooin.com send me?
We will send you a voucher that will contain all the car rental reservation details. That document must be handed over at the car office on arrival. The voucher must be under the same name as the car driver and this same person needs to show a credit card at the office as well. If not, Bedooin cannot guarantee the car delivery by the rental company.
About car rental contract…
We strongly recommend reading over the car rental contract carefully and paying attention at all the details. Make sure that the contract has not extras included that you have not requested. For example: an extra driver, the fuel or a complementary car insurance (SuperCover, PAI, Super CDW, etc). You can always add extra services at car company's help desk. And remember to return your car tank full of petrol or the car company will charge that to your credit card!
Can I take with me my own child seats for the car instead of renting them?
You can board them as a luggage in one of your suitcases and save the money of renting them to the car company. Although you can also contact us and we will book them for you in advance. Payment will be at the same car rental office.
Can I deliver the car after the time established by car voucher?
You can do it but you will be charged an extra day as deliveries and collections hours much with your trip. Your car document has got all the information about car office timetables.
About flight
What is the procedure with the flight company if I am traveling with a buggy?
When you travel with a buggy, most of the flight companies let you board it once you reach the plane. Someone will take it there and return it to you after landing. We recommend to check it in advance at the company website.
Boarding pass. Do not waste time and get them online!
Although with the ID / Passport and the flight document we send you is valid for collecting your boarding passes at company's boarding desk at the airport, we recommend getting your boarding pass checking in your flight online, both traveling with hand luggage or if you need to board some. In this second case you will only drop your luggage at company's boarding desk. Between 48 and 24 hours before departure you can do it and download them. Fast, easy and no queues at the airport!
Our prices include return flight tickets and all the supplement taxes such as airpot taxes, fuel surcharge and credit card processing fees.
This is a great option but we do have more. Look for an alternative by clicking on the accommodation.