Ski Boí Taüll Pyrenees & Barcelona Combo
4 days skiing in the Pyrenees and 3 nights in Barcelona
The best of two worlds blending a ski break in the Boí Taüll Pyrenees with a city break in Barcelona. Nestled in a secluded valley, Boí Taüll boasts excellent snow conditions as it is the highest ski area in the Pyrenees. After skiing 4 days in Boí-Taüll (skipass included) you will spend 3 nights in Barcelona.
A combo week with 4 Nights in the Pyrenees and 3 in Barcelona.
Flights, taxes and 4-days car rental also included.
4-Days skipass covering 10 lifts and 45 Km. of slopes included.
Enjoy best snow conditions at Pyrenees highest ski resort.
Discover a secret valley with UNESCO heritage romanesque churches.
7 nights in the chosen accommodation

Return flights (tax included)

4 days car rental

Skipass Boí Taüll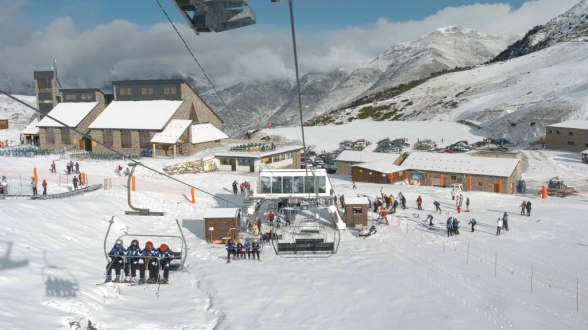 Boí Taüll Resort is the highest ski area in the Pyrenees offering excellent snow conditions from early December till late April. Excellent uncrowded slopes, very varied terrain and dramatic pyrenean panoramas are the best selling points here. The package includes 4 nights in Boí Taüll, 4-Days Skipass and final 3 nights in Barcelona.
The ski area starts over 2000 m. high and its 10 modern lifts go up till 2751 m. (highest in the Pyrenees). All the ski area is open, above the tree-line and north-facing. Therefore snow conditions are excellent both in quantity and quality. Ski season is very long and you can find powder snow in April. The 45 Km. of slopes tend to be very long with a maximum vertical drop of 750 m. Most of the ski area is geared toward intermediates but the base area is excellent for beginners. Experts will be thrilled by the fast, long, deserted red cruises but specially with the boundless off-piste skiing routes. Freestylers will enjoy the BT-freeXperience Snowpark. Slopes tend to be deserted and even in high season there are no queues.
The Boí Taüll Resort, at 1600 m. height, is a compact collection of hotels and apartments. Even if purpose-built, they are buildings with plenty of stone, wood and slate which makes a really pleasant resort. Hotels and apartments range from 2* to 4* and offer all kind of services, restaurants. bars. clubs, a very good spa and a well organized animation program both for adults and kids. The ski area is 8 km. away (served by regular ski-bus). Quaint Taüll village, with its wonderful romanesque church is only 2 Km. away from the hotels.
Up in the Pyrenees, the Boí Valley is a place for those who love mountains, authenticity and real skiing holidays. It is one of the places with less permanent population in the whole Pyrenees so you will have this mountain paradise mostly for yourself. Though meeting the valley inhabitants is a real pleasure and a way to discover traditions, festivals and gastronomy almost unchanged for centuries. Small stone villages in the sunny sides of the mountains boast impressive romanesque churches from the Middle Ages. Most of them are classified as UNESCO world heritage and are a real must-visit during your holidays. The eastern site of the valley belongs to "Aigües Tortes" National Park, one of the best preserved and biggest national park in the Pyrenees. The park and the whole valley are famous for their dramatic mountain landscapes.
Day 1

Flight to Barcelona.

Check-in at your departure airport 90 minutes before your designated departure time to Barcelona. Upon arrival at Barcelona airport pick-up of your rental car. You will use the car to transfer to Boí Valley and you will have it available during your whole stay to move around at your own pace. Upon arrival at your accommodation check-in and first night in Boí Taüll Resort.

You will have 4 days to enjoy Boí Valley Ski Area with the skipass included in your package. After skiing you can visit the small mountain villages with their famous romanesque churches (Unesco´s World Heritage). You will spend 4 nights in Boí-Taüll-

After skiing the fourth day it´s time to drive to Barcelona (it´s around 3H 30 min.). Drop-off the rental card in Barcelona city. Once the ski holidays are over is time to enjoy the most amazing and lively mediterranean city. You will spend 3 nights in Barcelona to discover the city.

Check-in at Barcelona Airport 90 minutes before your designated departure time. Flight to to your local airport. Arrival and end of your holidays.
About car
Are snow tires included in the car rental?
Snow tires are obligatory at some destinations and can be booked with us but the price is considered an extra and must be paid at the car rental office directly.
Car driver minimum age.
Usually, car rental companies charge an additional fee when car driver is younger than 25 yy. That amount depends on car category, country, etc. It must be paid at destination.
About flight
Does my flight include the ski equipment as a baggage?
Some companies have included in their rates the ski equipment but others don't. It is necessary to check it with the company chosen before departure.
About ski
How can I get my ski pass?
You have to print and take with you the ski pass voucher that we send to you. Exchange it and collect your ski pass at the cash desk of the ski resort that the voucher indicates.
General information
Something unexpected happened? Insure your trip!
You might be able to add a travel insurance at last step of the booking process, once you have introduced all your data. It is optional and prices vary according to the duration of the trip. Did you book without travel insurance and now you want to add it? You have 7 days from the moment you booked for doing it!
Our prices include return flight tickets and all the supplement taxes such as airpot taxes, fuel surcharge and credit card processing fees.
This is a great option but we do have more. Look for an alternative by clicking on the accommodation.