Barcelona Art Lovers
Gaudí, Picasso and Miró amongst others: enjoy art from most popular artists of Barcelona view
Featuring more than 40 museums of all kinds, Barcelona is a true destination for art lovers. This 5-night city trip focuses on art and museums. You will visit the Picasso Museum, the National Art Museum (MNAC) or the Miró Foundation among others. But Art in Barcelona is also outdoors, therefore we also include entrance tickets to Gaudí´s masterpieces: Sagrada Familia and Park Güell.
Our art super saver! All entries to top museums included!
Uncover world´s best collection of medieval art at MNAC.
Enjoy best modern and contemporary art exhibitions in Barcelona museums.
Discover Picasso's Museum and understand the artist evolution stages.
Beat the queues with all entrance tickets and transportation included.
5 nights in the chosen accommodation

Return flights (tax included)

Barcelona Art Lovers

Our Art Lovers trip includes:

+ 4 day-ticket for all the city transport

+ Picasso, Miró and Tàpies Museums Tickets

+ Most important Art Museusms of Catalonia: MNAC, CCCB and MACBA

+ Sagrada Familia and Park Güell Tickets

Transfer Barcelona

Transfer from Barcelona Airport - City Centre - Barcelona Airport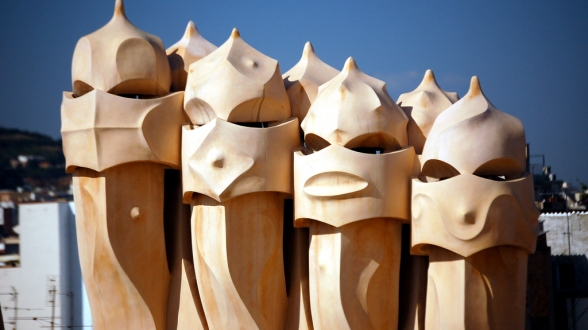 The package includes entrance tickets to Barcelona most famous and prestigious Art Museums. The entrance allows access to both permanent and temporary exhibitions : Picasso Museum: It is known as the main museum to understand Pablo Picasso formative years in the city. Organized by stages it is perfect to realize the artist evolution. Art is both inside and outside, as the museum is housed inside five medieval buildings in Barcelona´s Gothic quarter. National Art Museum of Catalonia (MNAC): It is located inside the National Palace in Montjuïc, arguably the most astonishing public building in Barcelona. The museum has world´s best collection of Romanesque and gothic art. It also houses works of great European painters of the Renaissance and Baroque: El Greco, Titian or Velázquez. Museum of Contemporary Art of Barcelona (MACBA): It brings together a significant body of artistic creation covering last fifty years. The museum is well known to conduct activities related to contemporary art and culture. The magnificent building was designed by renowned architect Richard Meier. Fundació Miró Museum: Located uphill in Montjuïc Park, it has breathtaking views of Barcelona. The museum hosts the best public collection of artist's work: paintings, sculptures, textile work, etc. It also well known for its world-class temporary exhibitions featuring modern and contemporary artists. Fundació Antoni Tàpies Museum: Projected by the artist himself, it aims to promote and study modern and contemporary art. It is located in a modernist XIX century building in the very center of Barcelona. The museum features best Tàpies masterpieces as well as excellent modern art exhibitions. Center of Contemporary Culture of Barcelona (CCCB): The CCCB is probably the most trendy and active museum in Barcelona. It focuses on the city and urban contemporary culture such as films, music, performance and artistic experimentation. It hosts famous contemporary arts festivals such as Alternative and Hionotik.
First Day:
Flight to Barcelona.

Check-in at your local airport at least 90 minutes before the scheduled departure time of your flight to Barcelona. Upon arrival transfer included to your selected hotel in Barcelona. Spend rest of the day enjoying the hustle and bustle of the Catalan capital. Overnight in Barcelona.

Intermediate Days:
Barcelona for Art Lovers.

You will have 4 full days to enjoy the city and discover its museums and artistic offer. You will meet great artists' legacy such as Picasso, Gaudí, Miró or Tàpies. Our package includes entrance tickets to the six best museums in Barcelona: Picasso Museum, Fundació Miró, MNAC National Museum, CCCB, Fundació Tàpies and MACBA Museum. Since we assume you will also visit the rest of the city we also include in the package a 4-days ticket for all urban public transportation. And, of course, entrance tickets to Gaudí´s masterpieces: Sagrada Familia and Park Güell. All in all you are going to spend 5 nights in Barcelona to enjoy the art but also the rest of city wonders.

Last Day:
Flight back home.

Free time until the designated time of your included transfer. You will be picked up at your hotel and transferred to the airport. Check-in and departure of your flight destination your local airport. Arrival and end of our services.
Our prices include return flight tickets and all the supplement taxes such as airpot taxes, fuel surcharge and credit card processing fees.
This is a great option but we do have more. Look for an alternative by clicking on the accommodation.