Aspen-Snowmass
The power of Four
Located in a remote corner of Colorado, Aspen is an old mining town that, over the years, has become one of the best ski resorts in America. Actually it is not one but four mountains covered by the same pass. So it features a great ski area with a super varied terrain. The exceptional quality of snow is the last ingredient to cook a special dish that every skier should try once in their life.
The best place to enjoy tree-skiing (with the famous Aspens )
Great snow conditions, both in terms of quality and quantity .
Very good lifts, no queues and uncrowded slopes.
A very nice and lively town, excellent après -ski.
The package includes flights to Aspen itself, 7 nights and 6 days ski pass.
7 nights in the chosen accommodation

Return flights (tax included)

Aspen Forfait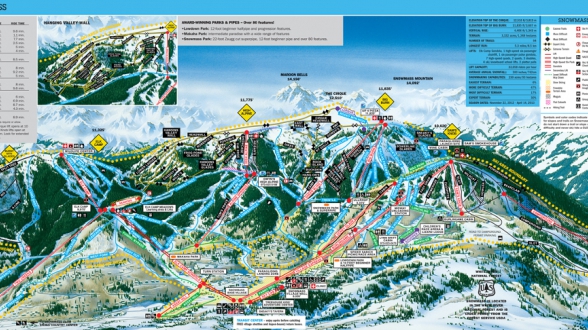 Aspen -Snowmass is the brand name of 4 ski mountains in the Aspen area. They are not linked to each other but on the same lift pass included in the price. They are connected by a ski bus servicing all the accommodations and resorts. Aspen Mountain is located above the town of Aspen and is easily accessed with a gondola from the very town center. It is ideal for intermediate skiers, with easy freeway-kind slopes, but there are also black slopes short but steep on each side. Buttermilk is the smallest of the four mountains and features the easiest slopes. It is best known for free-style skiers and snowboarders as it has one of the best terrain parks in the world. Actually, this is where the famous X-Games take place every year. Aspen Highlands is a very elongated mountain with easy slopes in the central area and steep blacks at the ends. At the top is " Highland Bowl ," one of the best open ski terrains in Colorado. The mountain is also famous for its wonderful views. Snowmass is the largest of the four mountains and a resort in its own right with many accommodations by the slopes. It is great for families as it offers in the lower parts many long ( also perfect for intermediates) easy slopes. At the top there is good terrain for experts both in forest and more open. It is a large resort and offers the biggest vertical in the United States. The town of Aspen is an authentic Western mining town with its history of rise and fall according to the price of silver. Converted into a high level ski resort, its historic center is fully restored and is really charming. There are plenty of shops, restaurants, galleries, bars, etc. (note the high prices though). It is very nice to stroll around in the evenings, and it has a lievely après- ski atmosphere (yet very chic) and many activities to do off-slopes. Those who prefer ski-in ski-out and the convenience of a purpose-built ski resort will prefer Snowmass. Located 19 km from the center of the historic Aspen, it does not have the same charm but is a very good place with all the services and accommodations to the slopes. There are bus connections to Aspen until dawn and between the 4 mountains during ski hours .
Check -in at your home airport 90 minutes before the scheduled departure of your flight to the U.S. This time you will fly to Aspen airport, so you will not need to hire a transfer or a rental car. It will be enough to catch a taxi or the occasional hotel pick-up. On arrival to your reserved accommodation, check -in and first night in Aspen.

You will have 6 full days to enjoy Aspen and Snowmass with the included ski pass, valid in the four mountains that belong to Aspen-Snowmass. You will spend a total of 7 nights in Aspen.

In time check- in at Aspen airport for your flight back home. Overnight on board.

Day 9

Arrival and end of the trip.
About car
Are snow tires included in the car rental?
Snow tires are obligatory at some destinations and can be booked with us but the price is considered an extra and must be paid at the car rental office directly.
Car driver minimum age.
Usually, car rental companies charge an additional fee when car driver is younger than 25 yy. That amount depends on car category, country, etc. It must be paid at destination.
About flight
Does my flight include the ski equipment as a baggage?
Some companies have included in their rates the ski equipment but others don't. It is necessary to check it with the company chosen before departure.
About ski
How can I get my ski pass?
You have to print and take with you the ski pass voucher that we send to you. Exchange it and collect your ski pass at the cash desk of the ski resort that the voucher indicates.
General information
Something unexpected happened? Insure your trip!
You might be able to add a travel insurance at last step of the booking process, once you have introduced all your data. It is optional and prices vary according to the duration of the trip. Did you book without travel insurance and now you want to add it? You have 7 days from the moment you booked for doing it!
Our prices include return flight tickets and all the supplement taxes such as airpot taxes, fuel surcharge and credit card processing fees.
This is a great option but we do have more. Look for an alternative by clicking on the accommodation.