Saas-Fee
High and snow-sure typical swiss car-free village
Located in a wonderful place, at 1,800 meters altitude and surronded by dramatic glaciers and peaks over 4,000 meters. The scenery is enough to justify a visit to Saas-Fee. Because of the high altitude, it offers year-round skiing and great snow conditions even in late autumn and spring. This makes it the most snow-sure resort in Switzerland. Furthermore, the town is charming with wooden houses and old chalets that have kept the charm of an alpine village.
120 Km. of slopes, most of them in glaciers or high altitude
Excellent snow-record from November to May
A wonderful pedestrianized swiss mountain village
Surronded by impressive peaks towering over 4000 m.
Very lively après-ski and lots of activites apart from skiing
7 nights in the chosen accommodation

Return flights (tax included)

7 days car rental

Swiss Transfer Ticket

Return train transfer ticket, valid from the airport train station to your final destination and vv.

Saas-Fee Skipass

5 Days Ski lessons - Optional

Ski/Snowboard Rental Equipment - Optional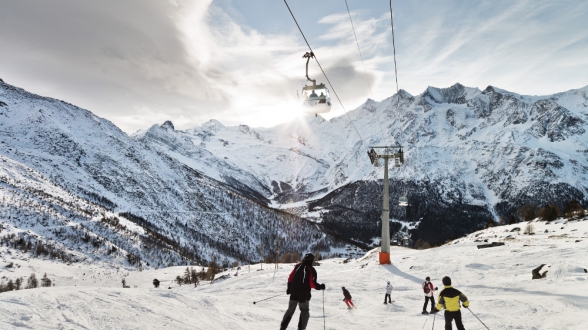 The main access to the slopes is either the impressive Alpin Express gondola or the Felskinn cable-car. Both lead to the central slopes point in Morenja (2,550 m.) And then continue to reach Felskinn (3,000 m.). From Felskinn it´s possible to go up to the highest point of the ski area, Mittelallalin (3,500 m. !!!) using the Metro Alpin, the highest underground railway in the world. Slopes in Mittelallain are smooth, blue and red (served by several draglifts) in a glacier that descends to Spielboden (2,450 m.) This area is also directly accessible with a cable car from Saas Fee. But most of the slopes are among Morenja, Felskinn and neighboring Egginerjoch peak (3,100 m.). There are slopes for all levels, but generally, this area is a bit more difficult than the top one. The norm in Saas Fee is the higher are the easier. From the village of Saas Fee depart two other gondolas: one serving Hannig mountain (pedestrians only, no slopes) and the other Platjen (2,570 m.) Platjen is the only non-glacier area of Saas Fee, it even has some forests, crossed by attractive slopes more complicated than those on the glaciers. As the piste mileage is a bit limited it´s worthy purchasing a skipass valid in the neighboring resorts of Saas Grund and Saas Almagell that are very close and are well worth skiing one day. Totally snow-sure, both in quality and quantity. Most slopes are north facing and above 2,500 meters, so you can ski even in summer. The main lifts are very modern (although there are many draglifts left) and no virtually no lines. It is known as the Pearl of the Alps, and not without reason. It is a simply wonderful and also occupies a special location with spectacular views of the surrounding peaks and glaciers that mostly over 4,000 meters. The town itself is very, very attractive and a very quiet, apart from being all pedestrian (you must leave your car in a large parking lot at the entrance). The hotels and modern buildings have retained all the traditional flavor and also share space with very old authentic wooden chalets and alpine farms with cows in the heart. Après-Ski and nightlife are great in Saas-Fee, as it is a very lively place. Starting at 3 pm the ice bars at the bottom of the slopes , as well as bars in the main street, are full of people. Lots of atmosphere, DJs, live music, people dancing are the norm until almost midnight. At that point you can continue the party in many discos and clubs for all tastes. If you want to leave the bar a while, there are excellent possibilities for dining out and enjoy the wonderful local cuisine or international specialties. Saas-Fee is also an ideal destination for those whose priority is not skiing. The village itself is very nice to walk around and go shopping, as it is charming and pedestrianized. There is a sports center with indoor pool, jacuzzi, steam room, sauna, massage, tennis courts, fitness, etc.. Saas-Fee is quite interesting for sightseeing (there are two museums) and the different and interesting villages in the valley are also easily accesible. Most of the mountain cable-cars are open to non-skiers which allows acess to phenomenal panoramas and also the impressive ice cave. Furthermore, one of the mountains, Hannig, do not accept skiers at all, and it is only for pedestrians. Here there are 30 km of marked trails in the snow, toboggan runs and paragliding opportunities. In the village there is a cross-country ski track of 8 km and a natural ice rink to practice skating, curling or hockey. , as well as bars in the main street,
Check-in at your departure airport 90 minutes before your designated departure time to Genève. Upon arrival at Genève airport, transfer from the Airport Train Station to Saas Fee. Upon arrival, check-in at your selected acommodation and first night in Saas-Fee

You will have 6 complete days to enjoy Saas-Fee slopes with the skipass included in your package. A total of seven nights in Saas-Fee.

Train Transfer to Genève Airport. Departure of your flight and end of your holidays.
About car
Are snow tires included in the car rental?
Snow tires are obligatory at some destinations and can be booked with us but the price is considered an extra and must be paid at the car rental office directly.
Car driver minimum age.
Usually, car rental companies charge an additional fee when car driver is younger than 25 yy. That amount depends on car category, country, etc. It must be paid at destination.
About flight
Does my flight include the ski equipment as a baggage?
Some companies have included in their rates the ski equipment but others don't. It is necessary to check it with the company chosen before departure.
About ski
How can I get my ski pass?
You have to print and take with you the ski pass voucher that we send to you. Exchange it and collect your ski pass at the cash desk of the ski resort that the voucher indicates.
General information
Something unexpected happened? Insure your trip!
You might be able to add a travel insurance at last step of the booking process, once you have introduced all your data. It is optional and prices vary according to the duration of the trip. Did you book without travel insurance and now you want to add it? You have 7 days from the moment you booked for doing it!
Our prices include return flight tickets and all the supplement taxes such as airpot taxes, fuel surcharge and credit card processing fees.
This is a great option but we do have more. Look for an alternative by clicking on the accommodation.