Les 4 Vallées
Swiss freeride paradise
Featuring a breathtaking mountain scenery, glaciers and a varied & extremely challenging terrain, Les 4 Vallees is one of the best destinations in the world for expert skiers and riders. Nendaz, together with Verbier, form the mega resort called 4 Vallées. With over 400 Km. of slopes it is one of the largest ski areas in the world linked by lifts.
400 Km. of slopes and 40 lifts included in the package.
More than 1800 m. vertical (slopes above 3000 m.)
Breathtaking high mountain scenery.
A paradise for experts with excellent off piste.
Great atmosphere, a blend of jet-set and high mountains.
7 nights in the chosen accommodation

Return flights (tax included)

7 days car rental

Swiss Transfer Ticket

Return train transfer ticket, valid from the airport train station to your final destination and vv.

Skipass 4 Vallées Mont-Fort

5 Days Ski lessons - Optional

Ski/Snowboard Rental Equipment - Optional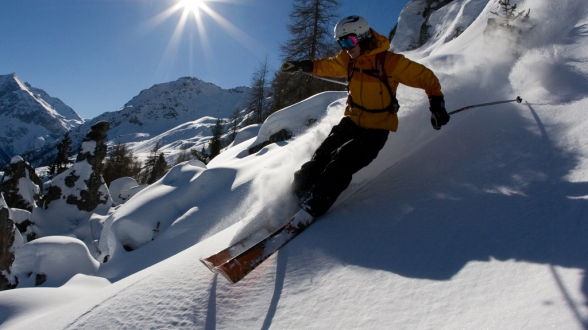 Nendaz is part of the large ski area of ​​4 Vallées. Access to the main ski area is via a cable car that departing from Nendaz village up to Tracouez. From here you have to follow up with two more cable cars that lead you up to 2,400 meters, in the middle of the ski area. From here you can go to the two other major areas: to the right Verbier, and to the left Veysonnaz-Thyon. Siviez, technically part of Nendaz, is at the junction of slopes from Nendaz, Verbier and Veysonnaz. Therefore, Siviez location is optimal to discover the 4 Vallées domain.
Considering whole 4 Valleys, it is an excellent ski resort for intermediate skiers with good and very long runs to choose from. However, intermediates shall be careful because in some places (such as higher parts of Verbier) the slopes, though red, are really hard. However, in Verbier´s area called Savoleyres red slopes are excellent. Again worth betting by neighboring reosrts both Nendaz area, Thyon and Veysonnaz offer very good tracks for intermediates.
Les 4 Vallees is a world-class mecca for expert skiers. Few resorts in the world offer such a comprehensive, varied and complex terrain as Verbier does, both on- and off-piste. On one hand, most red slopes are very nice and almost black. There are not many black slopes because the so-called itineraries are the really difficult ones. Itineraries are marked, secured and lift-accesed, tend to be very steep and they are never machine groomed. The best areas for experts are the upper slopes of Verbier and everything around Mont Fort. The Mont Gelé Couloirs are mythical and routes descending from here in all directions test even the most skilled skiers. A similar description can be applied to all the surrounding mountains (Mont Fort, Chassoure, La Chaux, etc.). Generally speaking you can choose everywehere between vertical slopes, imposing itineraries, and really difficult off-pistes. Additionally you can choose to hire a guide to can access other sides of the mountain (such as the famous dark side of Mont Fort) alpine descents with unmatched outside tracks (but again, very dangerous without a guide).
Nendaz (1,365 m.) has a great sunny location with magnificent views. It is the second resort in size in 4 Vallées, with chalet-style buildings around a beautiful old village, it is a modern resort with a relatively quick access to Verbier. Siviez, a bit higher (1.750 m.) Is ideally located in the middle of the 4 Vallées ski area. From 3 pm the pubs and bars of Nendaz are overflowing with customers. The party then moves to the village pubs, which are crowded until closing time. In addition there are much quieter places for a drink, chat, piano bars, jazz clubs, etc.
Day 1

Flight to Switzerland.

Check-in at your home airport 90 minutes before the scheduled flight departure destination Geneva. On arrival transfer by Swiss Trains to Les 4 Vallées Ski Region or, if you prefer, pickup of rental car to transfer on your own. On arrival to your acommodation, check-in and first night in Switzerland.

Day 2-7

Les 4 Vallées Ski Region.

You have six full days to enjoy the magnificent mountain panoramas and slopes of Les 4 Vallées. All ski lifts are also covered by the skipass you have included in the tour price. You will spend a total of 7 nights in Les 4 Vallées Ski Region.

In time transfer to the airport. Or drop-off the rental car at Geneva airport 120 minutes before the scheduled departure of your flight. Arrival and end of the trip and our services.
About car
Are snow tires included in the car rental?
Snow tires are obligatory at some destinations and can be booked with us but the price is considered an extra and must be paid at the car rental office directly.
Car driver minimum age.
Usually, car rental companies charge an additional fee when car driver is younger than 25 yy. That amount depends on car category, country, etc. It must be paid at destination.
About flight
Does my flight include the ski equipment as a baggage?
Some companies have included in their rates the ski equipment but others don't. It is necessary to check it with the company chosen before departure.
About ski
How can I get my ski pass?
You have to print and take with you the ski pass voucher that we send to you. Exchange it and collect your ski pass at the cash desk of the ski resort that the voucher indicates.
General information
Something unexpected happened? Insure your trip!
You might be able to add a travel insurance at last step of the booking process, once you have introduced all your data. It is optional and prices vary according to the duration of the trip. Did you book without travel insurance and now you want to add it? You have 7 days from the moment you booked for doing it!
Our prices include return flight tickets and all the supplement taxes such as airpot taxes, fuel surcharge and credit card processing fees.
This is a great option but we do have more. Look for an alternative by clicking on the accommodation.