Madonna di Campiglio, 7 nights
Good interconnected ski-area with a touch of italian chic style
Surrounded by the beautiful scenery of the Brenta Dolomites, Madonna di Campiglio is one of the leading and most traditional ski resorts in Italy. It's a very exclusive resort, with many quality hotels and with a superb service. It´s famous because its excellent mountain restaurants and the quality of its piste grooming, among best in the Alps. All this means that a holiday in Madonna is an excellent alternative to other, more famous, resorts. Specially now that the ski area has become quite sizeable with plenty of slopes very long and excellent for intermediate skiers
A sizeable ski area with 150 Km. of slopes interconnected Some of the best piste grooming in the Alps No crowds during weekdays, virtually no queues Excellent Mountain Restaurants, with best of Italian cuisine Breathtaking Dolomitic scenary
7 nits en l'allotjament seleccionat

Vols anada i tornada (taxes incloses)

7 dies de cotxe de lloguer

Forfait Campiglio - Dolomiti di Brenta

5 dies de Classe d'Esquí - Opcional

Lloguer Material Ski/Snowboard 4* - Opcional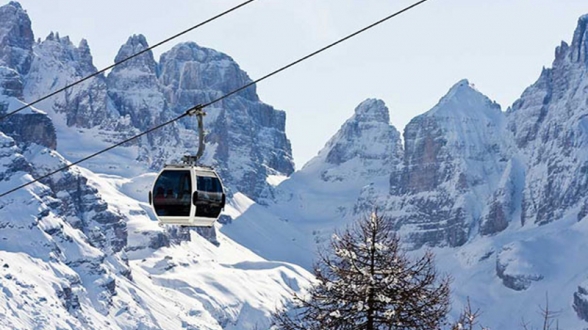 The ski area is formed by the link of the ski resorts of Madonna di Campiglio, Folgarida, Marilleva and Pinzolo. It is one of the best ski areas in Italy for intermediate skiers. The center of the area are the slopes around Madonna di Campiglio with 3 different domains all linked at their bottom ends. Pradalago offers the easiest tracks, very long, enabling connection via the Monte Vigo with the neighboring resorts of Folgarida and Marilleva (in the Val di Sole). On the right hand side there is Pancugolo mountain, where are the slopes hosting World Cup races every year (in the famous 3-Tre piste). Here are the most demanding slopes of all the area. Crossing Madonna there is Spinale - Passo Grosté area, the highest of the resort and, therefore, the place which offers the best views and has better snow conditions.
Madonna's ski area is connected with three neighboring stations: on one side Marilleva and Folgarida and on the other side the town of Pinzolo. Marilleva and Folgaria offer each one its own ski resort, with all the services and slopes of all difficulties. They are linked and connected with Madonna via the Monte Vigo area. On the opposite side of Madonna Pinzolo offers quite a small but magnificent ski area, with long slopes and fabulous views. It well deserves at least a ski day. There different skipass covering Madonna. The most complete ski pass (called Skirama Dolomiti) allows skiing in other neighboring stations such as Pejo, Tonale or Paganella, all great for a nice day trip if you want some extra skiing chance. The ski lifts have been modernized in recent years and queues are virtually nonexistent. The ski area has an excellent reputation for quality of slope grooming. Although some slopes are exposed to the sun the combination of a reasonable altitude and a very good network of snow guns can guarantee good snow conditions most of the season.
Surrounded by the breathtaking scenery of the Brenta Dolomites, Madonna di Campiglio is a very nice resort. Despite being purpose-built, Madonna was done with care and is really very nice. The resort center is pedestrianized, with nice shops, bars, restaurants and plenty of atmosphere. Great for an après-ski stroll. The lifts depart from different parts of the resort, covering a big area, but connected by the base. As the resort is quite large it is convenient to stay near one of the main lifts. A few miles away Pinzolo is a very beautiful village with authentic charm offering a much cheaper alternative to Madonna (however, there are few acommodations near the main lift). The two most popular villages of the Val di Sole are Folgarida and Marilleva, both the slopes and with direct connection to the ski area of Madonna di Campiglio. Of the two, Marilleva is greater (several levels) and Folgarida perhaps has a little more charm.
Après-ski is very quiet and exclusive, beginning with dinner in one of the excellent restaurants in the area and then follows in cafes, bars and clubs. All these spots are very quiet, Madonna is not the place for crazy fun chaos. One of the most typical après-ski activity is to go to dinner at one of the excellent mountain restaurants that are accessed only by special heated snowcats. It's a great experience! In the rest of the villages it's very, very quiet with the exception of Marilleva that welcomes more international tourism and may have a little more nightlife. Each of the villages has some place to have a proper drink or dance, the problem is that they have little atmosphere.
Like all Chic Ski resorts Madonna is a fantastic destination for non-skiers, with many shops and services of all kinds. Actually it is a resort that attracts many non-skiers and therefore during the day there is a great atmosphere of people walking around the pedestrian zone. There is a lake where you can go ice skating, beautiful 30 km cross country ski tracks in the woods and many marked trails in the snow for winter hiking. Folgarida and Marilleva are intended as ski resorts, so we do not recommend it for non-skiers. The village down the valley are good for tourism, hiking or cross-country skiing (if enough snow) but generally have a limited supply.
Check-in at your departure airport 90 minutes before your designated departure time to Milan. Upon arrival at Milan airport pick-up of your rental car. You will use the car to transfer to Madonna di Campiglio and you will have it available during your whole stay to move around at your own pace. Upon arrival, check-in at your selected acommodation and first night in Madonna di Campiglio.

You will have 6 complete days to enjoy Madonna di Campiglio slopes and also neighbouring ski areas with the skipass included in your package. A total of seven nights in Madonna di Campiglio.

Drop-off the rental car 120 minutes before flight departure at Milan Airport. Departure of your flight and end of your holidays.
Cotxe
Els pneumàtics d'hivern estan inclosos al preu del lloguer del cotxe?
Els pneumàtics d'hivern són obligatoris a alguns destins i es poden reservar a través de nosaltres però el preu es considera un extra a abonar a l'oficina de recollida.
Edat mínima del conductor del cotxe de lloguer.
Normalment, les companyies de lloguer de cotxes cobren un recàrrec extra a conductors menors de 25 anys. La quantitat depen de la categoria, país, etc. L'import s'abona a la mateixa oficina de recollida.
Vol
Inclou el meu vol el material d'esquí com a equipatge?
Algunes companyies de vol inclouen el material d'esquí a les seves tarifes però d'altres no. Comprova-ho abans de marxar. Air Europa: 902.401.551 // Lufthansa: 902.883.882 // Iberia: 902.303.200
Esquí
Com aconsegueixo el forfait?
Imprimeix i porta amb tu el voucher que t'hem fet arribar. L'hauràs de bescanviar pel forfait a les taquilles de l'estació d'esquí que s'indiquen al document.
Informació general
Imprevistos d'última hora? Assegura't el viatge!
Als nostres viatges hi pots incloure una assegurança a l'últim pas de la reserva, un cop introduïdes totes les teves dades. És opcional i els preus son variables segons la durada del viatge. Si has reservat sense però t'ho has repensat tens fins a 7 dies per incloure-la.
Els nostres preus inclouen vols d'anada i tornada, taxes d'aeroport, suplements de carburant i despeses per pagar amb targeta de crèdit.
Aquesta és una bona opció però en tenim més. Per veure altres opcions clica sota i desplega'n més.