Escapada de esqui en Alp 2500 (Molina + Masella)
4 Days Ski Break in Europe´s sunniest ski resort
A short break to ski in Alp2500, the biggest linked ski area in Spain, less than 2 hours drive from Barcelona Airport. Ski 3 full days in La Molina and Masella (Alp2500 skipass included) and enjoy the sunny weather, tasty food and wonderful mountain villages in the Pyrenees.
A Ski area less than 2 hours drive from Barcelona airport.
Flights, taxes and 4-days car rental also included.
4-Days skipass covering 34 lifts and 130 km. slopes included.
Discover the biggest linked ski area in Spain.
Enjoy the famous weather of Europe´s sunniest ski resort.
4 nits en l'allotjament seleccionat

Vols anada i tornada (taxes incloses)

4 dies de cotxe de lloguer

Skipass Alp 2500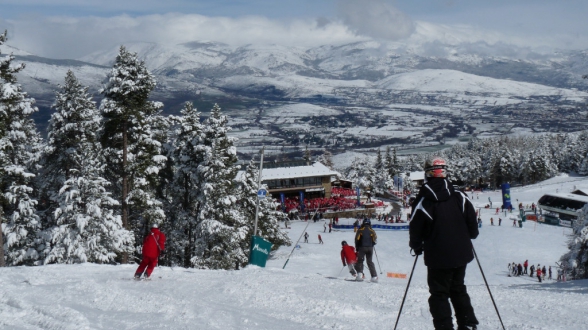 Alp2500 is the name given to a lift network linking Masella and La Molina. It is a sizeable ski area offering 130 Km. slopes of all levels and 34 excellent modern lifts. You can ski between 1600 and 2535 m. height, so allowing a vertical drop of almost 1000 m. It makes a huge very well linked ski area. Although it is quite easy and fast to navigate there is a real sense of travelling, plenty of diversity and a big area feeling. Driving from one edge to the other is more than 15 Km. La Molina is the ski resort with a longest tradition in Spain (the first skilift here was built in 1943). Nowadays it is a modern resort very focussed to skiing and snowboarding racing (it has held in recent years both Ski World Cup and Snowboard World Champs). There are two main mountains in La Molina: Puigllansada and Tossa d´Alp, both perfectly linked. Puigllansada offers very varied terrain with both forests and open bowls. There are excellent beginner slopes and child care facillites at the bottom, while at mid-mountain there are very fast cruisers great for good intermediates and experts. Tossa d´Alp mountain is accesed by a gondola which also links to Masella. It has the longest slopes in the area with 700 m. vertical drop and high-mountain feeling. In powder conditions it is a great free-ride terrain. Masella occupies most of the huge northern face of Tossa d´Alp mountain (thus featuring very good snow conditions). It is a very big ski area with many slopes through a dense forest. Lifts are very fast and modern and there are pistes for all level of skiers. It is an excellent place to learn skiing or improve skills in the family & beginner areas dotted around. Having a vertical drop of almost 1000 m. it features really long descents. The top area is an open bowl with high mountain itineraries and black slopes that will challenge any expert. Alp2500 is easily the most popular ski area among people from Barcelona as it has a long season, a big modern lift network and a fast access from the city. Foreign visitors apreciate the famous sunny weather in the valley where Alp2500 is located. Actually bluebird skies and sun are the norm here, making Alp2500 the sunniest ski resort in whole Europe. Eventhough it features the longest ski season in the Pyrenees, from late November to early May. La Molina is a proper resort with all the services by the lifts and many activites and après-ski choices. Masella is much more quiet, as it has only one hotel by the lifts. The ski area is located in Cerdanya valley, Barcelona´s mountain playground. The mountain villages in Cerdanya valley such as Alp, Bellver o Llivia are wonderful places to stay, 10 to 20 minutes from the ski area. Puigcerdà is the valley main town (less than 20 minutes from Alp2500) and is famous because of its restaurants, shopping, bars, après-ski and activities.
Dia 1

Flight to Barcelona.

Check-in at your departure airport 90 minutes before your designated departure time to Barcelona. Upon arrival at Barcelona airport pick-up of your rental car. You will use the car to transfer to Alp2500 and you will have it available during your whole stay to move around at your own pace. It is a nice drive of around 1h 45 min. Upon arrival at your accommodation check-in and first night in Alp2500.

Dia 2-4

Ski Alp2500 Pyrenees.

You will have 3 complete days to enjoy Alp2500 with the skipass included in your package. The skipass covers all lifts both in Masella and La Molina. After skiing is time to discover Cerdanya valley, Barcelona´s mountain playground.

Drive from Alp2500 to Barcelona Airport (less than 2 hours) and drop-off the car at the airport. Check-in at Barcelona Airport and flight to your local airport. Arrival and end of your trip.
Cotxe
Els pneumàtics d'hivern estan inclosos al preu del lloguer del cotxe?
Els pneumàtics d'hivern són obligatoris a alguns destins i es poden reservar a través de nosaltres però el preu es considera un extra a abonar a l'oficina de recollida.
Edat mínima del conductor del cotxe de lloguer.
Normalment, les companyies de lloguer de cotxes cobren un recàrrec extra a conductors menors de 25 anys. La quantitat depen de la categoria, país, etc. L'import s'abona a la mateixa oficina de recollida.
Vol
Inclou el meu vol el material d'esquí com a equipatge?
Algunes companyies de vol inclouen el material d'esquí a les seves tarifes però d'altres no. Comprova-ho abans de marxar. Air Europa: 902.401.551 // Lufthansa: 902.883.882 // Iberia: 902.303.200
Esquí
Com aconsegueixo el forfait?
Imprimeix i porta amb tu el voucher que t'hem fet arribar. L'hauràs de bescanviar pel forfait a les taquilles de l'estació d'esquí que s'indiquen al document.
Informació general
Imprevistos d'última hora? Assegura't el viatge!
Als nostres viatges hi pots incloure una assegurança a l'últim pas de la reserva, un cop introduïdes totes les teves dades. És opcional i els preus son variables segons la durada del viatge. Si has reservat sense però t'ho has repensat tens fins a 7 dies per incloure-la.
Els nostres preus inclouen vols d'anada i tornada, taxes d'aeroport, suplements de carburant i despeses per pagar amb targeta de crèdit.
Aquesta és una bona opció però en tenim més. Per veure altres opcions clica sota i desplega'n més.